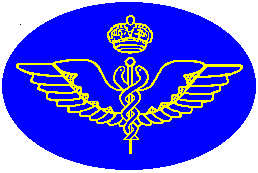 Royal Aero Club Awards & Trophies for 2004
The Royal Aero Club Annual Awards Ceremony
was held at
The National Army Museum, Chelsea
on
Thursday 3rd February 2005
The awards were presented by the Club's President,
HRH the Duke of York
---
Thanks to:
Breitling Swiss Chronographs
HR Jennings & Co Ltd, Aircraft & General Insurance Brokers
for their generous support of the event.
---
THE BRITANNIA TROPHY
Awarded to Richard Meredith-Hardy.
In May 2004 Richard Meredith-Hardy flew over Mount Everest in a weight-shift microlight. The aircraft was a British-made Pegasus Quantum with a Turbocharged Rotax 914 engine. It had a standard simple open-frame structure and a top speed of only 65 mph. The only extra feature was an oxygen system for the pilot. For the initial part of the ascent he was towing a hang-glider, but a cable-break prevented it accompanying him on the critical phase over the summit. The flight reached an altitude of almost 30,000 feet. He showed considerable skill in coping with the extreme weather, including winds over the summit which exceeded his airspeed, and courage in flying over the inhospitable terrain.
| | |
| --- | --- |
| | The microlight which Richard Meredith-Hardy flew over Mount Everest, at the National Army Museum 3rd Feb 2005 |
GOLD MEDAL OF THE ROYAL AERO CLUB
Awarded to Russell Cheetham.
Russell Cheetham started gliding in 1985 and flew his first competition in 1989. He won the UK Open Class Nationals in 2003 and became the European Open Class Champion in 2004. In June 2004 he achieved the first FAI 1000 km Diploma to be flown in Britain, starting and finishing at Husbands Bosworth in Leicestershire with turns on the Suffolk coast twice and in Wales.
SILVER MEDAL OF THE ROYAL AERO CLUB
Awarded to Gordon Isles.
Gordon Isles has been flying control line model aircraft for 23 years. For ten years he has been a member of the UK F2A speed team. He has been placed second in European and World Championships on five occasions and has also served as team manager. He has pushed up the UK record for speed and is the current holder at 299 kph. He pioneered the use of carbon fibre wings in speed models. His main forte is the design of propellers where he has worked closely with Dowty-Rotol and he has his own wind tunnel for experiments.
Awarded to Harriet Pottinger.
Harriet Pottinger became involved in hang gliding in 1994 when she edited a newsletter for pilots in exchange for lessons. By 1996 she won most of the competitions at her club in Devon and also joined its committee. She also took up paragliding in 1998 and is a talented pilot in both disciplines. She was elected to the BHPA Executive Council in 1997, and became Chairman of its Board of Directors in 1999, where she has served until her recent retirement. She will be remembered for her close grasp of all areas of the association's activities, and her organising skills, commitment and tireless work for BHPA.
Awarded to Andy Shaw.
Andy Shaw first competed in the parascending National Championships in 1980, and has won the Under-18 and Army Championships. Subsequently he has rarely been outside the top three in the UK Nationals, and has won the individual title five times. He has captained the Green Dragons to six team Championship victories. He was squad coach and team member winning Gold at the World Accuracy Championships in 2000 and Silver in 2003, and World Number One ranking in 2004. He became CFI of the Green Dragons Club, which he developed into one of the leading paragliding and hang gliding clubs in Britain, introducing thousands of people to the sport. He has developed a training course for paraglider instructors and club managers. Since 2001 he has been an EC member of the BHPA, where he has been working to develop youth participation.
Awarded to Geoff Weighell.
Geoff Weighell started flying hang gliders and moved on to early microlights in 1981. He is a successful competition pilot. He was a member of the British team which won the first World Championships in 1985. He won the round Britain Rally in 1999 and in 2003 led the team which flew a microlight for 1000 nautical miles in a day. He progressed to become an Instructor, an Instructor-course trainer and an Instructor Examiner. He has been the Chairman of the CAA Panel of Microlight Examiners since 1994, and his influence has achieved a high level of professionalism and safety in microlight instruction. In 2001 he was elected Chairman of BMAA and played a major role in negotiating the successful introduction of the NPPL.
BRONZE MEDAL OF THE ROYAL AERO CLUB
Awarded to Andy Cowley.
Andy Cowley started parascending in the 1960s, rapidly becoming an instructor and a top competitor. In 1977 he collaborated with John Harbutt to produce the first ram-air canopy, which gave a big improvement in performance, and they started the Harley company to make them. This led on to a career in design and development of parachutes. He was the national Accuracy Champion three times and won Gold at the first World Championships. He gained Silver in the first European Paragliding Championships flying a glider which he designed and built himself. since retiring from active competition nearly twenty years ago, he has been involved in judging and formulating rules and competition standards. He serves on the FAI CIVL Commission and will be Jury President at the next World Championships. He has served on the BHPA Safety and Training committee for 24 years and is Chairman of the Examiners Panel.
Awarded to Kevin Stass.
Kevin Stass has played a major role as a volunteer working in the organisation of many balloon record flights. He started helping Richard Branson and Per Lindstrand in 1995 and was involved in their round-the-World attempts. He then worked for Steve Fossett with his record attempts, including his solo round the World flight. In 2003 he supported David Hempleman-Adams with several flights, culminating in the successful transatlantic flight in an open wicker basket. He was responsible for obtaining all of the advance clearances for the flights, liaising with ATC and Search and Rescue, and manning the ground control centre during the flights.
Awarded to Derek Thomas.
Derek Thomas started skydiving in 1975. Since then, he has made over seven thousand jumps, clocked up 120 hours in free-fall, represented the UK in numerous skydiving championships, and has established nine world records. To date, Derek has won over 130 medals at national and international competitions. He is still competing at the top level and was in the UK Team at the 2004 World Championships. He became a free-fall instructor in 1984 and was involved in the development of equipment for tandem parachuting. He took over Sun Path Products in 1992, and this has grown to become the biggest manufacturer of parachute rigs in the world, selling 2,500 a year and employing 70 people.
THE PRINCE OF WALES CUP
Awarded to The Red Devils Display Team.
The Red Devils are the official free-fall display team for the Parachute Regiment and the Army. In 2004 they conducted 70 displays at events throughout the UK and Europe, ranging from air shows and sports events to the 60th anniversary commemorations of Normandy and Arnhem, where veterans made tandem drops onto the original DZ. Their spectacular display programme has promoted parachuting as a safe discipline, combining skill and courage with the controlled capacity to thrill. They have also been involved with overseas military training programmes and development trials. They are the current UK Armed Forces Parachute Champions.
THE BREGUET TROPHY
Awarded to Simon Oliphant-Hope.
In June 2004, Simon Oliphant-Hope established a new World Record for a round-the-World flight by a helicopter. He started and finished at Shoreham, and made an East-bound circumnavigation via Russia. He encountered some severe ocean storms and crossed mountains of over 10,000 ft. He completed the flight in 17 days, beating the record by seven days.
THE SALOMONS TROPHY
Awarded to Steve Elkins.
Steve Elkins is a hang glider pilot who has been a member of the British team for nearly 20 years, flying hang gliders made by his own Company in Britain. In 1988, he bought the rights to the Clubman basic design and set up Avian Ltd to manufacture them. This evolved into the Elan and Armour models. Later designs included the Cheetah which pioneered carbon-fibre spar technology. Avian is now the only hang glider manufacturer in the UK. In January 2005, he will again be flying an aircraft of his own design and manufacture at the World Championships.
THE ROYAL AERO CLUB DIPLOMA
Awarded to Roger Coote.
Roger Coote has been Development Officer for the BGA since 1994. He is an experienced glider pilot, but his professional background was in estate management. His main roles have been to give the BGA a more structured basis and to help individual clubs with development and site security. His administrative and personal skills have resulted in a good working relationship with the CAA, the Department of Trade and the Lottery Fund. He was instrumental in setting up the Annual Chairmen's Conference which has helped draw clubs together and develop BGA strategy. He has led the way in enabling UK air sports to demonstrate effective self-regulation in discussion with European regulation authorities.
THE ROYAL AERO CLUB CERTIFICATE OF MERIT
Awarded to Rob Noble-Nesbitt.
Rob Noble-Nesbitt started parchuting at Sunderland in the 1960's and became Club Chief Instructor. He moved to Brunton after Sunderland was closed. In the late 1970's he became Chief Instructor at Strathallan, where he helped the club develop into one of the most successful in Britain. In 1990 he opened the Stirling Parachute Centre, and when this was sold in 2000 he became Chief Instructor at Errol. He is widely respected for his patience and dedication, and attention to safety.
Awarded to Trudy Kemp.
Trudy Kemp joined the office staff of the British Parachute Association in 1979 as an office junior, but it was not long before her efficiency and organisational skills were recognised. She has a fund of experience and knowledge which has been of great value to successive committee Members and Chairmen of the BPA. She is currently the full-time PA to the Technical Officer and the National Coach and Safety Officer, also serving as Secretary of the Safety & Training committee and the Riggers Committee.
Awarded to Arnold Parker.
Arnold Parker conceived the idea of Sky Watch three years ago, and it now has over 150 members. The objective is to have volunteer pilots with their own aircraft available and trained in basic air reconnaissance, to help the emergency services. It has already had many successes, particularly in lowly populated areas, with things like reporting forest and moorland fires, locating missing people, and finding stolen vehicles. A useful by-product is the good publicity for general aviation resulting from press coverage of their activities.
Awarded to Andrew Simpson.
Andy Simpson is a historian and archaeologist. Following experience with other museums, he joined the staff of the RAF Museum in 1989, and for the last ten years he has been Curator in the Aircraft and Exhibits Department. His responsibilities include custody of the RAeC's collection of historical documents, memorabilia and trophies, and he has supported the RAeC Trust's project of cataloguing and conservation. He has regularly escorted the RAeC's trophies from secure storage at Hendon to the Annual Awards Ceremony.
Awarded to the 'Walking on Air' Charity.
The 'Walking on Air' Charity was founded in 1998 to provide facilities to enable disabled people to take an active part in gliding. Sponsorship form businesses has enabled it to purchase a K21 training glider, modified with hand controls. This has enabled many disabled people to experience gliding, and in some cases to learn to fly go on to purchase their own suitably modified gliders.
THE PRESIDENT'S ROLEX TROPHY
Awarded to Matthew Hart.
Matthew Hart is 17 years old, and has been flying control line model aircraft in F2A speed competitions for three years. He has regularly been a member of the UK team at European and World Championships, winning several medals in junior competitions, including European Gold. He also competed in the US Open Nationals in 2004, where he set a World record for his age group of 281 kph, and also an event record for jet-power. He is still at school, and has been accepted for an Engineering degree course at Heriot-Watt university.
COWBURN & KAY - OLD & BOLD TROPHY
Awarded to David Cahill.
David Cahill is 72 years old. He has been flying for over 30 years and owns a quarter-share in a Cherokee Arrow. He has held a PPL for over 30 years and has over 2000 hours in the logbook. He has been a regular competitor in Air Rallies at home and at several Mediterranean venues, and has achieved several victories in navigation and arrival time competitions. Though he has recently given up because of the cost, he was also a regular racing pilot.
CERTIFICATE OF APPRECIATION OF THE ROYAL AERO CLUB
Awarded to Stewart Luck.
Stewart Luck is a commercial pilot and has been a member of the PFA EC for six years. He has a passionate interest in youth involvement and education. He originated and initially funded the "UK Build-a-plane" project, involving groups of Air Cadets and Air Scouts across the country in the construction of an aircraft, with each group building a part of it. This has enabled hundreds of children to be involved. They will see their handiwork fly, and several of them will fly in it when it is completed.
---
Fédération Aéronautique Internationale Awards -
British winners for 2003
These awards were presented to the UK delegation at the FAI General Conference in October 2003, and were re-presented here.
FAI PAUL TISSANDIER DIPLOMA
Awarded to David Hastings.
David Hastings has made a major contribution to many aspects of Aviation in Norfolk. He gained a PPL in 1963, and went on to become a Director of the Norfolk & Norwich Aero Club. He worked on the Air League Youth Training Scheme. He served the Scout movement for 24 years and was the Deputy Commissioner (Air) for Norfolk. He piloted many Air Experience Flights for the Scouts and Girls Venture Corps. For 33 years he was a Duty Officer with the Royal Observer Corps. For 23 years, he has been a Governor of the 2nd Air Division USAAF Memorial Trust, including serving as its Chairman. He has travelled widely in the USA giving talks to promote recreational flying. He represented private flyers on the Norwich Airport Consultative Committee for 5 years. He is a Governor of Wyndham College with special interest in the RAF section of its CCF unit. He is an Honorary Squadron Commander with the USAF at Mildenhall promoting links with the local community. In 1968 he formed the Norfolk Vintage Pilots Association, linking service and civilian pilots, which continues today.
FAI BALLOONING DIPLOMA
Awarded to David Hempleman-Adams.
In September 2003 David Hempleman-Adams achieved the first Atlantic crossing in a balloon with an open wicker basket. The balloon was a British-made Rosiere 90. Starting from New Brunswick, the flight took 83 hours during which some severe weather including heavy rain and freezing temperatures was encountered, but finished with a safe landing near Blackpool.
---