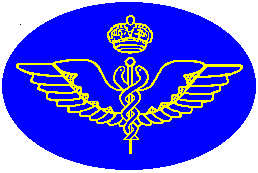 Royal Aero Club Awards & Trophies for 2005
The Royal Aero Club Annual Awards Ceremony
was held at
The RAF Club, London
on
Wednesday 4th October 2006
The awards were presented by
Henrietta, Duchess of Bedford
---
Thanks to:
Breitling Swiss Chronographs
HR Jennings & Co Ltd, Aircraft & General Insurance Brokers
for their generous support of the event.
---
The awards for 2005 are:
THE BRITANNIA TROPHY
Awarded to David Hempleman-Adams.
David Hempleman-Adams set a new World Altitude Record for open-basket hot-air airships in December 2004 with a flight to 21,830 ft. This was preceded by several years of design work, where every component was reduced to minimum weight. The flight was made in Canada with a ground temperature of -10°C and a temperature at altitude of -45°C, which called on his previous experience of cold-weather survival and pushed both the pilot and the aircraft structure and materials to the limit.
THE PRINCE OF WALES CUP
Awarded to The British Gliding Team 2005.
The British Gliding Team had a very successful year in major international competitions. This has been characterised by professionalism and mutual support among the team members. The Junior World Championships at Husbands Bosworth produced Gold for Mark Parker, Silver for Jon Meyer and Bronze for Andy May in the Standard Class. The Women's World Championships in Germany resulted in British Silver and Bronze medals. The European Championships in Finland and Slovakia resulted in a Gold, two Silvers and a Bronze Medal in three classes.
GOLD MEDAL OF THE ROYAL AERO CLUB
Awarded to Vijaypat Singhania.
Vijaypat Singhania is an Indian who has had a life-long interest in aviation. He has been flying for 40 years and has more than 5,000 flying hours. In 1988 he made a solo flight in a microlight from the U.K. to India. In 1994 he won the first Round-the-World Air Race, receiving the FAI Gold Medal. On 26th November 2005 he achieved the world altitude record for hot air balloons. He frlew in a pressurised gondola containing life-support systems and carrying special burners designed to function in the rarefied atmosphere. He reached 69,852 feet, beating the previous record by nearly 5,000 feet.
SILVER MEDAL OF THE ROYAL AERO CLUB
Awarded to Janet Folkes.
Janet Folkes has been involved in Ballooning for over 20 years, initially flying hot-air balloons and as a competition observer, but more recently flying Roziere and gas balloons. She established 45 World records, many of which still stand today. In 1995 she set the women's World altitude and British distance and general duration records for AX-2 (cloud-hopper) balloons. In 1998 she set women's World distance, duration and altitude records for a Rosiere balloon. In 1999 she set the British general duration and altitude records for a gas balloon. She has competed in several Gordon Bennett and American Challenge gas balloon races, and in 2005 flew 1500 miles from New Mexico to Canada, giving her the British General distance and duration records by a large margin. As well as ballooning she also flies helicopters and hang gliders, and is a sky-diver.
BRONZE MEDAL OF THE ROYAL AERO CLUB
Awarded to Robin Bailey.
Bob Bailey has been a model flyer for over 50 years. He has represented Britain in three different free-flight classes at World Championships and has taken part in international competitions regularly since 1967. Since 1984 he has specialised in the F1D extremely lightweight indoor class, and has been responsible for several technical innovations. He has won two World Championship medals, and won team Gold at the 2005 European Championships.
Awarded to John Curtis.
John Curtis has made a very major contribution to Parachute safety through his work on rigging. He started to develop expertise in this area in 1964, and soon qualified as an Advanced Rigger and Rigger Examiner. He was a founder member of the BPA riggers committee and became its Chairman. He set up the BPA Riggers Safety Manual, which established the reliable working practices still followed today.
Awarded to David Wright.
David Wright is a glider pilot and holds a FAI Silver Badge. He has served the BGA for 20 years as volunteer manager and developer of its Accident and Incident Database, and also supplied accident summaries to Sailplane & Gliding magazine and safety publications. His experience has often led to the correct resolution of conflicting accounts and data, and to reappraisal of evidence. He has also given long service on the BGA Safety Committee where his advice has been invaluable.
ROYAL AERO CLUB DIPLOMA
Awarded to Robert Pooley.
Bob Pooley's name is synonymous with his pilots' supplies company and particularly his Airfield Guides. He has given more than 40 years support and backing to many RAeC member organisations, including the HCGB, for which he serves as RAeC Council Member, and also the BBAC, RRRA, PFA and BPPA. He has sponsored many aviation events including air races and major fly-ins, and supported the Tiger Club Dawn-To-Dusk Competition. He has attended international competitions to ensure that British Teams are well supported and equipped. Since the 1970's, he administered the RAeC Pilot Proficiency Scheme and carried all of the costs of setting up the scheme. He has encouraged individuals, Air Training Corps and other youth organisations to participate in flying. Bob Pooley continues to be Britain's best sporting ambassador in the world of aviation.
CERTIFICATE OF MERIT OF THE ROYAL AERO CLUB
Awarded to Hugh Browning.
Hugh Browning is a glider pilot. As a retirement project, he has carried out a two-year major analysis of the records of over 2,500 accidents and incidents from 1987 to 2004. This has provided valuable statistics and enabled the BGA to focus its safety initiatives on the major areas of concern. His analysis and his ongoing role as a BGA Regional Safety Officer has made a significant contribution to glider safety.
Awarded to Andrew Cormack.
Andrew Cormack has been Keeper of Visual Arts, Medals and Uniforms at the RAF Museum since 1996. This and his previous posts, has involved work on the RAeC collection of archives and memorabilia, which is stored at the museum. He has given many years of advice and support regarding the conservation of the collection, including the restoration of some of the more important pieces. He has also given valuable support to the RAeC Trust in their ongoing project to catalogue the collection, and in the selection of items of particular importance for education.
Awarded to Jo Halman.
Jo Halman was a control-line model flyer, and joined the then Society of Model Aeronautical Engineers as Hon. Secretary in 1976. She has organised the control-line speed contests at the Nationals for 25 years. She has managed the successful UK teams at the European and World Championships since 2001 and has acted as contest director and chief timekeeper at numerous international contests and championships. She is now the secretary of the BMFA control-line sub-committee and the speed specialist body. She is the BMFA Competition Secretary, vice-chairman of its Technical Council and both Assistant Secretary and Technical Secretary of FAI-CIAM. She was involved in organising the free-flight indoor World Championships in the Dome, also the radio-control and control-line power Nationals, and in coordinating space modelling.
Awarded to Ronald Jenkins.
Ron Jenkins joined the CAA after service as an Army helicopter pilot, and has recently retired. He worked in the Training Standards section of Flight Crew Licensing, and became a CAA Member of the Microlight Panel of Examiners. He has championed the cause of Microlight Flying for 15 years and provided invaluable advice and support to the BMAA. He developed a thorough understanding of microlight training and was never afraid to challenge proposals within CAA which he felt were being applied to microlighting in an unhelpful or overly complex way. His influence within CAA has been of great benefit to microlight flying.
THE NEXUS TROPHY
Awarded to Neil Lawson.
Neil Lawson was a professional photographer and glider pilot. He linked these two subjects and built up a library of gliding and other aviation pictures spanning 30 years. He formed the White Planes Picture Company in 1999, to exploit this, using the internet. He continued to take excellent pictures of gliders, including providing the cover picture for almost every issue of Sailplane & Gliding magazine. Neil was unfortunately killed in an accident while photographing the Junior World Gliding Championships in 2005, and the award is made posthumously.
COWBURN & KAY - OLD & BOLD TROPHY
Awarded to Rita Boniface.
Rita Boniface is now 73 years old, and still flying. She started in 1970, and was a part-time instructor at Southend for eight years. She was particularly interested in aerial photography, including airborne archaeology. She has promoted flying by giving numerous talks to youth organisations and clubs such as the WI and Rotary. She has been a member of BWPA for over 30 years and served on its committee in several roles, currently chairing the Awards and Scholarships sub-committee. She also helps out with Air League and RAeC functions and is also an active member of the European Women Pilots' Association. She has recently regained her pilots licence after accident injuries four years ago.
THE PRESIDENT'S ROLEX TROPHY
Awarded to Daniel Billam.
Daniel Billam started flying competitions for rubber-powered free-flight models when he was 11. Since 2003 he has been a regular member of the UK international team in this class, and was 9th in the Junior World Championships in 2004. In 2005 he moved up to the senior team and his second-highest placing in the UK team contributed to the team's overall 9th place in the World Championships in Argentina. He also competed in indoor duration flying and won two classes at the European Indoor Championships in 2004.
COMPANION OF THE ROYAL AERO CLUB
Awarded to Michael Feldman.
Michael Feldman has for many years audited the accounts of the Royal Aero Club, and also since 1998 those of the RAeC Trust. He has been generous with advice and guidance to the Officers of the Club and Trust, and has made no charge for his services.
ANN WELCH MEMORIAL AWARD
This is a new award. It acknowledges people making a major contribution to flying instruction benefitting the BGA, BMAA, and BHPA. Normally there will be one award each year, but for its first year, awards have been made for each of these three organisations.
Awarded to Charlie Kovac of BGA.
Charlie Kovac started gliding in Yugoslavia in 1940. After the war, he settled in England and returned to gliding, becoming an Instructor at Lasham in 1965. He has taught many hundreds of pilots to fly, and more recently he has coached and developed the skills of numerous instructors from many other clubs. He has also qualified for an FAI Gold Badge. His inspiration and hard work for others was recognised by election as a Life Member of the Lasham Gliding Society, and is further acknowledged by the Ann Welch Award.
Awarded to Mark Shaw of BHPA.
Mark Shaw began paragliding in 1990 and trained as an instructor in 1996. After further experience overseas, he qualified as a Senior Instructor in 2002. He became CFI of the new Peak Airsports in early 2003, training 30 students a year, and concentrating on high-quality training in small groups. He was seriously injured flying in the Alps in 2004, but has recovered to fly again and continues to run the school full time. His former students can be readily identified by their exemplary technique and safety.
Awarded to Gerry Breen of BMAA.
Gerry Breen started gliding at the age of 13 and became an RAF gliding instructor when he was 17. On leaving the RAF in 1974, he set up a hang-glider manufacturing company and opened the Welsh Hang Gliding Centres, which became Britain's most successful schools. He co-authored the first book on hang-gliding with Ann Welch. In 1976, he pioneered powered hang-gliding, operating successfully at Enstone until 1984. As well as instructing, he set many records and was involved in several expeditions and films. In 1985, he set up a flying school in the Algarve, instructing on weight-shift and three-axis microlights. He is a CAA Flying Instructor Examiner, a BMAA and PFA Inspector, and Britain's only authorised Seaplane Microlight Instructor and Examiner.
---
Fédération Aéronautique Internationale -
British Awards for 2004
These awards were presented to the UK delegation at the FAI General Conference in Autumn 2005, and were re-presented here.
FAI - PRIX HENRY DE LA VAULX &
FAI - GOLD AIRSHIP MEDAL
Awarded to David Hempleman-Adams.
David Hempleman-Adams broke the World Altitude Record for hot-air airships in December 2004, for which he has also been awarded the RAeC Britannia Trophy. This completed the set, as he had also previously broken the speed, distance and duration World Records for hot-air airships. He currently holds 33 FAI World Records for Balloons and Airships plus six for fixed-wing flying, and has made several notable long-distance balloon flights. He has flown over the Andes, made a flight from Spitzbergen to within a degree of the North Pole, and flown a balloon with an open basket across the Atlantic.
FAI - PIRAT GEHRIGER AWARD
Awarded to Gillian Bryce-Smith.
Gillian Bryce-Smith retired in 2004 following long and successful service as Editor of gliding magazines. She became Editor of "Sailplane & Gliding " in 1973, and it has grown from a black-and-white A5 format to full-colour A4. Her professionalism, persuasion and journalistic coaching skills sustained a succession of high quality articles. She was over 60 years old when she retired from this, but then started a new joint UK/US venture "Motorgliding International", which has subsequently gone on-line as www.glidingmagazine.com. She has sustained a high standard provided the benchmark for gliding journals. Unfortunately she recently died of cancer and the award is presented posthumously to her family.
---
Fédération Aéronautique Internationale -
British Awards for 2005
These awards were presented to the UK delegation at the FAI General Conference in Autumn 2006, and were re-presented here.
FAI - GOLD AIR MEDAL
Awarded to Richard Meredith-Hardy.
FAI - PAUL TISSANDIER DIPLOMA
Awarded to Brian Spreckley.
FAI - ANTONOV AEROMODELLING DIPLOMA
Awarded to Bernard Hunt.
---