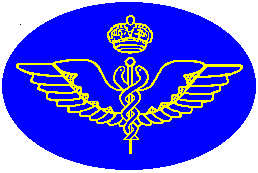 Royal Aero Club Awards & Trophies for 2006
The Royal Aero Club Annual Awards Ceremony
was held at
The RAF Club, Piccadilly, London
on
Tuesday 24th April 2007
The awards were presented by
HRH The Duke of York
---
Thanks to:
Breitling Swiss Chronographs
HR Jennings & Co Ltd, Aircraft & General Insurance Brokers
for their generous support of the event.
---
The awards for 2006 are:
THE BRITANNIA TROPHY
Awarded to Manuel Queiroz.
In early 2006, Manuel Queiroz became the first British pilot and only the sixth of any nationality to circumnavigate the world in a home-built aircraft, establishing several point-to-point records on the way. The flight was undertaken to publicise the Cancer Research Charity. The aircraft was a Vans RV-6 which he modified himself for the trip, including fitting a long-range tank to his own design along with an autopilot and extra radio equipment. He planned the route himself, including arranging avgas stocks on Pacific islands. The route included many thousands of miles of inhospitable desert and ocean, including a 2,500 mile direct crossing from Hawaii to California. He flew 27,000 miles in 170 hours flight time over 40 days.
THE PRINCE OF WALES CUP
Awarded to Team Airkix.
Team Airkix are the British 4-Way Women's Formation Skydiving Team. The members are: Claire Scott, Amanda Kemp, Emma Beyer and Julia Foxwell, with Andrew Wright as Camera Flyer. The team was formed two years ago, led by Claire Scott. Claire had previously been part of the Gold-medal-winning Team V-Max, but the others had little international experience. At the 2006 World Championships in Germany, they won the Gold Medal, beating some full-time and state funded teams, and also achieved a World Record in one of the rounds.
GOLD MEDAL OF THE ROYAL AERO CLUB
Awarded to Phil Jones.
Phil Jones won the Gold Medal at the 2006 World 18-metre Gliding Championships. He is an established member of the British Gliding Team and had previously won Bronze in 2003. He holds ten UK Gliding records, including the third-longest flight ever in the UK, and the longest in an 18-metre glider, of 982 km.
SILVER MEDAL OF THE ROYAL AERO CLUB
Awarded to Chris Gay.
Chris Gay is an experienced formation sky-diver, and was taking part in a 16-way canopy formation stack at Empuriarava, Spain in May 2006. Chris had already joined the stack when another participant was knocked unconcious in a collision when leaving the aircraft. Chris pursued the victim for 3/4 mile and eventually achieved a very skilful docking and then a safe lending on the beach, thereby saving her life.
Awarded to Cliff Piper.
Cliff Piper is a retired Commercial Pilot and joined the PFA in 1972. He is one of the few members who have built and flown an aircraft that he designed himself. He organised the homebuilders exhibition at the PFA Annual Rally for many years. He was elected to the Executive Committee in 1992. His biggest contribution has been as Chairman of the PFA Pilot Coaching Scheme. This is to give training for type conversion and farm-strip operation by a national team of Coaches operating under an exemption from the CAA. Subsequently he negotiated approval for the PCS Coaches to conduct biennial reviews. He has also played a major role in the negotiations to establish the NPPL. He was the PFA Representative on the board of GASCO for 12 years.
Awarded to Dr Peter Saundby.
Peter Saundby became a RAF Medical Officer in 1957, retiring as an Air Commodore in 1991. He has held a PPL since 1953 and has been a glider pilot since 1960, becoming an instructor and Medical Adviser to the BGA. For over 20 years, he has been the UK representative to the FAI Medical Commission and Medical Coordinator for Europe Air Sports. He successfully argued the case for a simplified medical requirements for the NPPL in the UK, and is now negotiating with EASA to apply the same rules to the proposed European Recreational PPL. Thousands of British recreational pilots are grateful for his negotiating skills.
Awarded to Leigh Wells.
Leigh Wells won the Gold Medal at the 2006 World Standard Class Championships, becoming the youngest World Gliding Champion. He had previously won the UK Junior Championship and a number of National Championships and Bronze in the 2005 European 15 metre Class.
BRONZE MEDAL OF THE ROYAL AERO CLUB
Awarded to Trevor Birkbeck.
Trevor Birkbeck has been a hang glider pilot for over 30 years. This has included competing in the nationals and at international level. He soon joined the Competitions Panel, becoming its head for 10 years, and responsible for selection, management and funding of international teams for European and World championships. He has been the popular and respected Chairman of the Dales Club for 25 years, particularly establishing good relationships with local landowners. He was responsible for introducing the first aerotow training.
Awarded to Tamsin Causer.
Taz Causer had been skydiving for seven years and made about 700 jumps. She had been involved in a series of record-breaking teams, including the UK women's 60-way formation in 2004. Then in the USA she took part in two World Records - a women's 151-way formation skydive and an 85-way diamond canopy formation. Next in Thailand two more World Record jumps, a 400-way skydiving formation followed by a 960-way mass drop. Unfortunately Taz was killed in the training accident in Spain in which Chris Gay rescued the other casualty, and the award was made posthumously.
Awarded to Peter Grange.
Peter Grange has been regular pit man and occasional competitor for the British team at F2D control-line combat model-flying competitions for over 25 years. His record of 22 international competitions as pit man is unique. He has contributed to 18 team and individual medals, including five golds.
Awarded to Robin Jones.
Robin Jones was responsible for introducing the Fun Fly competition alongside the BMFA National Championships, and he has chaired its organisation for over 20 years. The competition is now well supported and this has triggered several design improvements in the Fun Fly model. It has provided an introduction to competition flying for many people.
Awarded to Mike Scholes.
Mike Scholes has been flying hot air balloons for nearly 20 years. He now has a commercial balloon rides organisation and instructs new pilots. He has taken part in several competitions. In 2006, he made two notable flights in a small balloon and using a sack instead of a basket to save weight. He ascended to 31,976 feet, qualifying for a BBAC Diamond badge. Later he made a cross-country flight from Cambridge to Shropshire in 23 hours to establish a new British duration record.
Awarded to Nigel Tasker.
Nigel Tasker was one of the first balloon pilots when the sport revived in the 1970's. His main contribution has been on organising competitions and defining rules. The rules he introduced for the 1977 World Championships were adopted by FAI and have been used ever since. He went on to direct the UK national championships for 12 years, and after 30 years he is still involved as an event official.
ROYAL AERO CLUB DIPLOMA
Awarded to Rob Colpus and Darryl Moran.
Rob Colpus and Darryl Moran have both been successful team captains for over 20 years in international parachute competitions, particularly 16-way free-fall. They combined to organise the British Record 100-way skydive in 1999. More recently they have been co-captains of the British sector at a number of parachute record attempts. They have trained and managed a team of 38, paying special detail to safety planning in mass jumps. Their team participated in the World Record 400-way freefall link-up, and in a series of mass jumps culminating in 960 in Thailand in 2006.
CERTIFICATE OF MERIT OF THE ROYAL AERO CLUB
Awarded to Judy Hanson.
Judy Hanson became secretary of the RAeC Records Racing and Rally Association in 2001. She brought stability to the Association and worked tirelessly to promote Air Racing. She has been instrumental in five years of success for the sport.
Awarded to Steve Uzochukwu.
Steve Uzochukwu has been an active hang glider pilot for 17 years and is a club coach. He developed an interest in technical issues This has led on to him becoming a frequent contributor to Skywings magazine with a variety of informative articles on hang gliding and paragliding topics, including flight tests and an explanation of the new CEN certification scheme.
COWBURN & KAY - OLD & BOLD TROPHY
Awarded to Harry Mason.
Harry Mason was 87 years old on 23rd April. He joined the RAF in 1938 and served as an aircraft fitter until 1946. He was too good at his job and his requests for aircrew training were repeatedly refused. Eventually he won a scholarship to learn to fly at Yeadon in 1955. He started flying aerobatics in 1997 and in 2000 entered his first competition, flying a Pitts Special, aged 80! He is still flying in competitions and beating people 40 years his junior, including 3rd place in the 2006 Tiger Trophy.
THE PRESIDENT'S ROLEX TROPHY
Awarded to Christopher Lawrence.
Christopher Lawrence joined Norfolk Gliding Club's Cadet Scheme in 2004, and achieved his first solo on his 16th birthday on Boxing Day 2005. He has since gained a Bronze Badge, 100 km Diploma and two sections of a Silver Badge. He has absorbed himself in the life of the club; he is a very regular volunteer worker at the launch point, and is serving on the Club's Strategy Committee.
COMPANION OF THE ROYAL AERO CLUB
Awarded to Norman Pocock.
Norman Pocock has for many years generously supported the RAeC in two ways. He has given advice on insurance of its collection of paintings and trophies. Through his company HR Jennings & Co Ltd, he has provided sponsorship for the Annual Awards Ceremonies, funding the tickets for the award winners.
ANN WELCH MEMORIAL AWARD
Awarded to John Henry.
John Henry started gliding as an ATC Cadet in 1948. He joined the Scottish Gliding Union in 1951. He became an instructor in 1959 and has continued to instruct at various Scottish Clubs ever since. He gained a PPL in 1974 and qualified as a motor-glider instructor and tug pilot. He is also a microlight check-pilot and a PFA test pilot. He instructs for the "Walking on Air" disabled pilots scheme. All of this as an unpaid volunteer. He has a good track record of success with students which other instructors have given up.
OTHER AWARDS
A number of major awards from member associations were also presented.

---