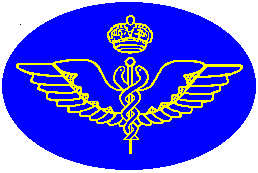 Royal Aero Club Awards & Trophies for 2007
The Royal Aero Club Annual Awards Ceremony
was held
at the RAF Club, Piccadilly, London
on Wednesday, 2nd July 2008
The awards were presented by
Air Chief Marshal Sir John Allison KCB CBE FRAeS,
President of Europe Air Sports and Vice-President of the RAeC
---
Thanks to:
Breitling Swiss Chronographs
HR Jennings & Co Ltd, Aircraft & General Insurance Brokers
for their generous support of the event.
---
The awards for 2007 are:
THE BRITANNIA TROPHY
Awarded to John Williams.
John Williams has radically moved the goal-posts of British Gliding. For several years, he has explored and studied local weather patterns and wave formations around the coasts of Scotland. This has enabled him to establish new offshore turning points which gave a big increase in flight distance, while sustaining task speeds of over 120 kph. Prior to this year, only two 1000 km flights had ever been achieved in the UK. In 2007 he made the three longest glider flights ever in the UK, increasing the greatest distance flown in a day by a huge margin from 1020 km to 1540 km. He was top of the BGA 2007 National Ladder and also won the European section of this year's international On Line Contest by a large margin.
THE PRINCE OF WALES CUP
Awarded to the British Women's Gliding Team.
At the 2007 Women's World Gliding Championships in France, the British Women's Gliding Team achieved two Gold medals and the overall Team Cup. Gold medals were won by Gill Spreckley in the Club Class and Sarah Kelman in the Standard Class. Three other pilots also only narrowly missed medals and the team's combined placings gave them overall victory. This success owed much to Brian Spreckley as Team Captain and had its foundations in the British Gliding Association Coaching initiative.
GOLD MEDAL OF THE ROYAL AERO CLUB
Awarded to Derek Piggott.
Derek Piggott's RAF service included flying Lancasters, Meteors and troop-carrying Gliders, and instructing at CFS. Since 1953, he has pursued a unique career. He has flown a wide variety of powered types, particularly aerobatic aircraft, and he flew WW-1 replicas in nine major cinema films. His main achievements have been in gliding. For over 50 years has made an outstanding contribution to instruction, including writing several books and papers, and making international lecture tours. He evaluated 180 glider types and produced handling notes for them. He has flown a variety of interesting one-offs, including the Cayley replica and the SUMPAC man-powered aircraft. He has taken part in many British and American competitions, including winning the British Glider Aerobatic Championships and setting several records. Though now over 80 years old, he is still flying competitively, writing articles and giving lectures.
SILVER MEDAL OF THE ROYAL AERO CLUB
Awarded to Robert Grimwood.
Robert Grimwood started flying weight-shift microlights despite having lost the sight of one eye. He won a bursary and went solo on his 17th Birthday, and soon qualified as an instructor. He instructed part-time while at University, where he achieved an MSc in Aeronautical Engineering. He now works as CFI of Plastows Microlight Club and as an airworthiness engineer for BMAA. He crewed with Paul Dewhurst and they won Bronze at the 1999 World Championships. Then, as pilot, he won Silver at the 2003 Worlds. This has been followed by Gold medals in the 2004 European Championships and the 2005 and 2007 World Championships.
Awarded to Peter Harvey.
Peter Harvey was one of the world's leading hang glider pilots, having flown in many international competitions world-wide. His successes included British National Champion and setting the UK foot-launched distance record. He won two Golds and a Bronze medal with the British Team in World and European Hang Gliding Championships. Looking for a new challenge, in 1995 he turned to competition gliding. He has since won the British Standard Class, Open Class and UK Overseas Gliding Championships. Internationally he won Gold Medals at the 2005 and 2007 Europeans and Bronze at the 2006 World Championships, and has been selected for the UK team for the 2008 Worlds. He is a coach for the BGA Junior International teams and young competitors.
Awarded to David Hempleman-Adams.
David Hempleman-Adams has had a prolific career in balloon record-breaking, and he was previously awarded the RAeC Gold medal in 2000 and the Britannia Trophy in 2005. This award is to acknowledge his most recent achievements during 2007. In Canada in January, he set a new World Altitude Record for small Class AX-5 hot air balloons with a flight to 9,900 metres (32,500 ft). The extreme cold resulted in the Barographs failing, so the flight had to be repeated. Then in July, he made a solo trans-Atlantic crossing in the smallest balloon ever used, only 1,000 cu.m. This covered 4227 km in 89 hours, establishing several World records.
BRONZE MEDAL OF THE ROYAL AERO CLUB
Awarded to Martin Fardell.
Martin Fardell has been a strong supporter of Scale modelling in the UK since 1978, when he started writing articles for the modelling press. His main contribution has been with the Scale Technical Committee starting in 1989 as Scale Contest Manager, and he has done a variety of other committee tasks. For many years, he has been a judge at the National Championships for Scale free flight, radio and indoor events.
Awarded to Lesley Gale.
Lesley Gale is a skydiver with over 3,300 incident-free jumps in 21 years. She has taken part in several World Record skydiving formations, won a series of National and European skydiving medals, and was in the UK team at the World Championships in 2004. She is Managing Editor of the BPA Skydive magazine and was awarded the RAeC Nexus Trophy in 2000. She has organised several special events, including a female world-record formation jump and the Brit Chicks formation team, which have raised many tens of thousands of pounds for charities and raised the profile of women skydivers.
Awarded to John Glossop.
John Glossop started gliding while an RAF apprentice in 1954 and continued with Cambridge University Gliding Club. He has held the UK Open Class 400 km triangle record and holds all three diamonds. He became involved in managing the Club, including a major role in moving from Duxford to Gransden Lodge. He has been Competition Director at many National and Regional Gliding competitions there. Until 2006, he was a regular entrant in the Open Class Nationals. He recently suffered a stroke, but returned to direct the 2007 gliding competition at Gransden Lodge.
ROYAL AERO CLUB DIPLOMA
Awarded to Jack Harrison.
Jack Harrison is well known as Weatherjack. He flew with the RAF and then as an airline pilot for over 40 years, retiring in 1998 with over 18,000 hours. He started gliding in 1955 and has three diamonds. For seven years, he has provided specially tailored daily weather forecasts for glider and hang-glider pilots on his Weatherjack website, and also provided localised forecasts for competition organisers. As new technology is overtaking the need for such a service, he is now retiring. He has produced a series of articles to help make the most of the latest weather forecasting information.
CERTIFICATE OF MERIT OF THE ROYAL AERO CLUB
Awarded to John Blackmore.
John Blackmore started gliding in 1953. He completed the FAI Silver and Gold badges and a Diamond, and became a BGA instructor in 1961. He has had a long involvement with gliding, gliding instructing, and light aircraft flying including as a tug pilot. He has flown 38 different types of glider, 8000 launches and over 3000 hours. During that time, numerous pilots have benefited from his guidance. He has been an active member of five gliding clubs, relocating as his career evolved primarily with RAE and DRA. He remains an active member of the Kestrel Gliding Club, but is now retiring as an instructor.
Awarded to Julie Fisher.
Julie Fisher has been Treasurer of the Model Aerobatic Helicopter Association for six years. She was responsible for raising most of the finances to send the UK F3C team to Japan for the 2003 World Championships. At the 2006 European Championships at Blandford, she negotiated the site, accommodation, catering, marquees, fuel etc. for the competitors, along with flights and accommodation for Judges and Jury. She is a great organiser and supporter for aviation. The AHA owes a considerable debt to her for all her efforts.
Awarded to Keith Lomax.
Since 1990, Keith Lomax has held several administrative posts in the BMFA and SMAE. While Honorary Secretary, he co-ordinated the modernisation of the Constitution and set up a devolved organisational structure. For the past four years he has been Honorary Treasurer. He also served on the East Anglian Area Committee and as Secretary of Chelmsford MFA. He has taken the BMFA trade-stand to a variety of shows around the country and helped on the stand at the Model Engineering Exhibition and with the DART Children's workshop. He has helped organise the National Championships for a variety of disciplines, including acting as Co-ordinator.
Awarded to Derek Platt.
Derek Platt began gliding with the ATC in 1945 and gained his 'A' badge. After a break, he returned to gliding, along with his children, re-soloing in 1986. He completed his silver badge and became a Basic Instructor, and later adding a motor-glider PPL. He has sustained enthusiasm for flying and commitment to the Midland Gliding Club over 24 years. As an Instructor he provided an introduction for hundreds of people on trial lessons. He acts as Launch Director and his practical skills are regularly called on at the club-house. He is a popular Club member, rarely missing a weekend. He has around 900 hours gliding and 300 motor-gliding and, though he was 80 last December, he plans a lot more flying yet.
Awarded to Jane Wilson.
Jane Wilson joined the time keeping team of the RRRA 17 years ago and since then has missed only one race-meeting. She has maintained the RRRA records and allocation of trophies since 1990 and continues to carry out this task. She is now Chief Timekeeper of the RRRA. Through her knowledge and interest of the Association's histories and trophies, she has gained the respect of the air racing fraternity over many years.
BREGUET TROPHY
Awarded to Jennifer Murray & Colin Bodill.
Between December 2006 and May 2007 Jennifer Murray and Colin Bodill set a new FAI World Record by flying round the world via both the South and North Pole in a helicopter. They covered 32,000 nautical miles in the 171-day journey, making over 120 stops and visiting 26 countries. Their success raised a considerable sum for charity. Their achievement was particularly notable because both pilots had suffered serious injuries from crashing into an Antarctic ice shelf on a previous attempt in 2003.
COWBURN & KAY - OLD & BOLD TROPHY
Awarded to Jim O'Donnell.
Jim started flying with the Scottish Gliding Union in 1955 and became an Instructor. He also instructed for the Air Training Corps until 1967, and then for the Air Scouts. From 1972 until 1976 he was CFI at Portmoak. He became involved with aircraft preservation at East Fortune Aircraft Museum in 1973, and since 1986 he has organised the 'Tuesday Group' of elderly glider pilots who work there. He promoted gliding by giving many aerobatic displays around Scotland in the 1970s and 80s,. Since its inception he has supported the 'Walking On Air' charity for disabled glider pilots, both as an instructor and tug pilot. He is now 84, but continues to fly the tug and gliders at Portmoak and to tour the country in a motor glider.
THE PRESIDENT'S ROLEX TROPHY
Awarded to Daniel Billam.
Daniel Billam started flying competitions for F1B rubber-powered free-flight models when he was 11. He has been a regular member of the UK international team since 2003. He was previously awarded the Rolex Trophy for 2005, but his subsequent successes in international competition merit a further award. He is still only 17 years old. He achieved the best senior UK placings in the World Cup in France in 2005 and 2006, and in 2006 he won Gold in the Junior World Championship in Germany.
THE NEXUS TROPHY
Awarded to Michael Bird.
Michael Bird is known to generations of Sailplane & Gliding readers as the columnist Platypus. This emerged in 1969 eight years after Michael first began writing for the magazine, and nearly 40 years later still appears in every issue The column is both funny and insightful, ranging from witty one-liners about the baser aspects of gliding life to the complexities of the theory of flight. For many readers it is the first page they turn to and the reason they buy the magazine. A collection of his Platypus writings was published as a book in 2000.
CERTIFICATE OF APPRECIATION OF THE ROYAL AERO CLUB
Awarded to Richard Crabtree.
Richard Crabtree has been the Administrator of the Royal Aero Club Trust for several years. He joined the Trust as a volunteer and focussed on developing the Flying Bursary scheme for young people. This has enabled them to improve their proficiency in a variety of air sports. He subsequently became a Trustee and his background and experience have been of considerable assistance to the Trust. His involvement with classic cars helped to spread awareness of the unique items in the RAeC Collection, particularly the albums which belonged to the Hon. C S Rolls. This resulted in many donations, enabling these albums to be restored for the benefit and enjoyment of future generations as well as their contents being made available to Rolls-Royce enthusiasts, world-wide.
COMPANION OF THE ROYAL AERO CLUB
Awarded to Dr Vijaypat Singhania.
Dr Vijaypat Singhania has a life-long passion for aviation. He made a solo flight in a microlight from Britain to India, he won the first Round-the-World Air Race and he set the world altitude record in a hot air balloon. He has been awarded FAI and RAeC Gold Medals. He has recently made a very generous donation to the RAeC Trust to fund the conservation, microfilming and digitising of the collection of unique albums compiled by Frank Hedges Butler, a founder-member of the Aero Club. These contain historic newspaper cuttings, letters and photographs, some as early as 1756. The conservation will assist historians in accessing this information, and will ensure that the original albums will be available to future generations.
ANN WELCH MEMORIAL AWARD
Awarded to Graham Phipps.
Graham Phipps started Hang Gliding instructing over twenty years ago in Cornwall. He has made a big contribution to the development of hang gliding in the South West. He now includes training utilising towing, which has made tuition more available and controlled, and he also provides paragliding tuition. This has broadened access for the less physically able and for all ages. His school operates with low numbers to ensure good progress. He has had notable success in producing pilots who stay in the sport. and he continues coaching ex-students after their formal training. He flies at top competition level as a member of the British Hang Gliding Team.
---
Fédération Aéronautique Internationale -
UK Awards for 2006
These awards were presented to the UK delegation at the FAI General Conference in Autumn 2007, and are re-presented here.
FAI - PIRAT GEHRIGER DIPLOMA
Awarded to Brian Spreckley & Keith Nicolson.
Brian Spreckley and Keith Nicolson have contributed significantly to international gliding by their joint work to develop the IGC Ranking List. Brian defined the requirement and Keith Nicolson created the List software as a project for his MSC Degree. They have both contributed to the ongoing development of the List and the rules for its management. It has now been embodied in a new Annex in the FAI Sporting Code for Gliding. The List now includes some 2,500 pilots, a 28% increase in the past year.
FAI - SABIHA GOKCEN MEDAL
Awarded to Tamsin Causer.
'Taz' Causer had been skydiving for only 9 years and 850 jumps, but her achievements have been exceptional. In 2002, she began a series of record-breaking jumps, in both Formation Skydiving and Canopy Formation. She participated in setting UK national records and then as part of ever-larger multi-national jumps. She also raised substantial amounts for charity from sponsorship. She participated in the women's world record 151-way formation skydive and three absolute world records: the 85-way canopy formation, 400-way formation skydive and 960-way mass freefall jump. She had also been awarded a RAeC Bronze medal. Unfortunately she was killed in a training accident in May 2006, and the award is presented posthumously to her family.
---
OTHER AWARDS
A number of major awards from member associations were also presented.
---