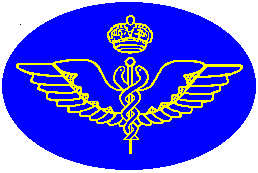 Royal Aero Club Awards & Trophies for 2009
The Royal Aero Club Annual Awards Ceremony
was held at
The RAF Museum, Grahame Park Way,
Hendon, London NW9 5LL
on Tuesday, 27th April 2010
The awards were presented by the Club's President,
HRH the Duke of York
---
Official photographs of the event
may be viewed and purchased on:
http://www.photoboxgallery.com/hendon
Password is: Hendon (case sensitive)
Further information may be obtained from
the RAeC General Secretary:
David Phipps,
Royal Aero Club,
31, St Andrew's Road, Leicester LE2 8RE
Tel: 0116 244 0182, Fax: 0116 244 0645
E-mail: secretary@royalaeroclub.org
---
Thanks to:
Breitling Swiss Chronographs
HR Jennings & Co Ltd, Aircraft & General Insurance Brokers
British Airways PLC
for their generous support of the event.
---
The awards for 2009 were:
THE BRITANNIA TROPHY
Awarded to Capt Paul Bonhomme.
Paul Bonhomme is a Captain with British Airways, but is better known as an accomplished aerobatic display and warbird pilot. Since 2004, he has been a regular competitor in the Red Bull Air Race series, where he has consistently finished among the top three in the world. In 2009 Paul was crowned Red Bull Air Race World Champion; the first win by a UK pilot. This extremely competitive series of precision races is sanctioned by the FAI as a World Championship event and Paul's achievement is outstanding.
THE PRINCE OF WALES CUP
Awarded to Gliding Team GB.
The British Gliding Team overcame strong opposition in the 2009 European Championships at Nitra, Slovakia to win the overall team championship. Peter Harvey became Open Class European Champion for the third time, with Steve Jones taking Bronze. Russell Cheetham is the new 18m European Champion, with Mike Young taking Silver. Combined with good results from other team members, these won the Team Gold Medal for the British Gliding Team, captained by Philip Sturley.
GOLD MEDAL OF THE ROYAL AERO CLUB
Awarded to Freefly Team Volare.
Freefly Team Volare, consisting of Mike Carpenter, Adam Mattacola and Alberto Fuertes, have put British freeflying on to the world map. They again won the British Freefly National Championships in 2009, and were invited to represent Britain at the World Games in Chinese Taipei, where they took Bronze. Team Volare then went on to win Gold at the 2009 European Championships and World Cup in the Czech Republic, the first time any British team had won an artistic skydiving event.
Awarded to Keith Negal.
Keith Negal has been British Team Leader in four medal-winning World and European Microlight Championships. He has served as an FAI Steward, FAI Monitor and FAI Jury Member. He is also currently a Vice President both of FAI and of the RAeC. In 2009 Keith organised the Bleriot Memorial Flight in which over 200 British, French and Belgian microlights crossed the English Channel. Serving as BMAA Council Chairman for 10 years, Keith was instrumental in negotiating the new sub-115 kg class of microlights to allow owners more freedom. Keith formulated the idea of a European Microlight Federation and made it happen. The BMAA considers no-one has done more for microlighting in the UK than Keith.
ROYAL AERO CLUB DIPLOMA
Awarded to Laurie Shaw.
Laurie Shaw was an engineer with BOAC and its successor British Airways, and was one of the team to see the Boeing 747 into service. Laurie learned to fly in 1957, joined the Popular Flying Association in 1964 and constructed a Tipsy Nipper aerobatic aircraft. He started a local branch of the Association in Berkshire and was soon co-opted onto the PFA's Executive Committee, initially as Events Coordinator, and then its Treasurer and Company Secretary, posts he held for 27 years. He has remained an active member of the Association's Executive Committee and is currently its Vice President.
Awarded to John Thorpe.
John Thorpe's career started in flight research at Bristol, then in 1970 became a Design Surveyor with the ARB, leading to work in the CAA Safety Data Unit. He launched the General Aviation Safety Information Leaflets (GASIL) and Safety Sense leaflets, masterminded the provision of Club Safety Noticeboards, and implemented Safety Evenings at flying clubs, personally presenting 385. In 1987 he became head of the CAA Safety Promotion Section, and in 1992-98 was Chairman of the Bird Strike Committee. He served on the General Aviation Safety Council (GASCo) for 17 years, and after retiring from CAA, became its Chief Executive, working tirelessly organising safety seminars, implementing its website and promoting its magazine, Flight Safety. John has maintained a unique database of accident statistics, his knowledge is encyclopedic and his style has made him an extremely effective campaigner for improved safety.
SILVER MEDAL OF THE ROYAL AERO CLUB
Awarded to Dr Stephen Green.
Steve Green initially was a competitive aerobatic pilot, but recently has concentrated on judging, working tirelessly to improve standards worldwide. Steve is a member of the Judging Subcommittee of the FAI CIVA International Aerobatic Commission. Steve took on the role of Contest Director for the 25th World Aerobatic Championships (WAC) at Silverstone in August '09. His dedication received unequivocal praise from every one of the attending National Aero Clubs and led to the FAI awarding the Leon Biancotto Diploma to the BAA and the Air Sport Medal to Steve in 2009.
Awarded to David Hempleman-Adams.
On 19 September, 2009, David Hempleman-Adams broke two world balloon records for duration in a tiny AA-01 class gas balloon. He flew from Butler, Missouri, to Cherokee, Oklahoma in fourteen hours and fifteen minutes. David spent two years preparing for this audacious solo flight, choosing a lightweight envelope, tiny basket, top of the range instruments, the best launch site and losing 20 lbs in weight. He travelled over prairies at 22 knots, just 500 feet above the trees, avoiding tall radio masts, wind turbines, turbulence and finding it a cold night in just a T-shirt!
Awarded to Bruce Tapson.
Bruce Tapson started instructing in gliders in 1959 and quickly went on to become a senior Air Cadet Flying Examiner, a senior BGA Flying Examiner and a club Chief Flying Instructor. Now in retirement, Bruce has supported the entire UK Self Launching Motor Glider (SLMG) community by taking on the very demanding volunteer role of Senior SLMG Examiner, effectively managing SLMG standards. In his 50 years in flying, Bruce has flown some 55,000 launches and 13,000 hours in gliders and motor gliders, and sent 2,500 first solos. Any club with Bruce as CFI soon found its flying statistics, membership numbers, achievements and bank balance increasing.
BRONZE MEDAL OF THE ROYAL AERO CLUB
Awarded to Paul Dancey.
Paul Dancey is an instructor and Chairman of the South East Wales Hang Gliding and Paragliding Club, which he administers almost single-handedly. Paul had the vision, drive and expertise to successfully bid for the Blorenge mountain launch point near Abergavenny, for his club in 1998, converting it to a limited company to facilitate the transaction. Paul was an enthusiastic member on the BHPA Executive Council, becoming Director of Corporate Communications. He has supervised the production of the BHPA magazine, Skywings, for over ten years, runs the BHPA website, its online shop and manages corporate email accounts. Paul revived the old Welsh Hang Gliding Federation and found himself elected as Secretary, now sitting on an impressive range of Welsh sporting, recreational and environmental committees.
Awarded to Nigel Hitchman.
Nigel Hitchman was an engineer with Airbus at Toulouse and now flies Boeing 767's for BA. He owns two LAA-permit aircraft, a vintage Piper Cub and a Vans RV-6 of which he was part builder, and is a regular attendee at UK and Continental fly-ins. He was the Coordinator and National Council representative for PFA Bristol Strut for five years and helped organise fly-ins and Young Aviators' events. For more than 15 years he headed the departure briefing team at PFA National Rallies, to ensure the hundreds of visiting aircraft left safely. He has been a prolific contributor to the PFA and LAA magazine, providing articles and photos, and compiling Project News for 100 consecutive issues over 12 years.
Awarded to Brian Lever.
Brian Lever has consistently championed model flying, in particular control-line flying, for the last quarter century. He was the driving force throughout the 14 years of the Peterborough Cabbage Patch Nationals, which became the biggest single-day control-line competition in the world. He continues to nurture new competitions, for example, working with schools on the BMFA Flight Challenge. In 1997 he took over the chairmanship of the SAM 35 vintage organization and was instrumental in its incorporation as a BMFA Specialist Body.
Awarded to Chris Lynch.
Chris Lynch has been skydiving for 27 years and in 2009 won his 22nd British National Gold in 24 years. His success is unique in that these medals are held across six different disciplines - Canopy Formation, 8-way, 4-way and Vertical Formation Skydiving, Freefly and Freestyle. Chris is also a very experienced instructor plus a highly respected coach for Formation Skydiving, artistic, canopy handling and piloting. He was a pioneer in the push for better teaching of canopy control and safety, with many of his early teaching now accepted as best practice. Chris has been an excellent ambassador for the UK in countless World Championships and Head-down World Records.
Awarded to Cliff Mort.
Cliff Mort has been a member of the Popular Flying Association and its successor the Light Aircraft Association, for almost 35 years. He has served on its Executive Committee for the last 19 years, including as Secretary and then Chairman for two years each, and currently as a Vice-President. He was a member of the Association's Rally Committee becoming Chairman for two years. Cliff was also Chairman and a director of the Lancashire Aero Club. He is also now Chairman of the North West Strut of the LAA, having previously served as Treasurer and Newsletter Editor.
CERTIFICATE OF MERIT OF THE ROYAL AERO CLUB
Awarded to Andrew Dawrant.
Andrew Dawrant was made a Trustee of the RAeC Trust charity, after many years of working tirelessly for the Trust as the head of the NADFAS conservation Volunteers. Under Andrew's superb leadership his team have worked extensively on the large collection of RAeC memorabilia lodged at Hendon. Because of the unpaid time that Andrew has devoted, vitally important memorabilia have been saved for the nation. This has included scanning, conserving, cataloguing and archiving numerous albums, photographs, certificates, postcards, collections and books.
Awarded to Thomas Dawson.
Tom Dawson organised the first F ly UK event in 2004 and each year since, with sixty microlights taking part in 2009. The group have a week to travel to pre-arranged overnight stops all over the UK, arriving back at Sandown in time for the annual Spamfield microlight gathering . What's remarkable is that Tom was a student pilot and had to hitch rides as a passenger! His slow progress in getting a licence is because he was too busy organising everyone else. In 2007 Tom arrived in his own Shadow and completed Fly UK solo - unbelievably, his first cross-country after gaining his licence! Fly UK is a feat of organisational and negotiation skill, and has raised £37,000 for charities
Awarded to E. Robert Dunthorn.
Bob Dunthorn's hang gliding career began mid 1970s and he served the Aberdeen Hang Gliding and Paragliding Club since its earliest days. He has been Sites Officer for working tirelessly to obtain and retain sites. As Chief Coach, he assists new pilots to develop their skills. He competed internationally for many years and is also a glider pilot at the Aboyne Gliding Club. What makes Bob, 61, really stand out is that he keep up his enthusiasm, dedication and spontaneity, in spite of the Aberdonian weather which makes flying only possible occasionally.
Awarded to Helen Evans.
Helen Evans was Editor of Sailplane & Gliding magazine from 1999 until 2008, taking it over following a difficult period and rapidly elevating it back to its leading position. The magazine's editorial contributors are not professional writers, they just know a lot about gliding and love the sport. Helen has remarkable skills as an editor, producing a regular, high quality, professional publication from a collection of unpaid, busy, amateur volunteers. She never failed to produce original, interesting, accurate and timely editorial, continually inspiring her readers, thus nurturing the sport and its future.
Awarded to Jane Middleton.
Jane Middleton was Chairman of the Women in Aviation International European Conference in 2007, hosting nearly 100 delegates from 13 countries. The informative educational programme saw lectures and demonstrations, visits to aviation centres of excellence, flying, and meeting Lady Thatcher, who Jane persuaded to come along. In 2004 Jane was appointed a Trustee of the Royal Air Force Museum where she chairs the Education and Research Committee and sits on the Finance Committee. She is totally dedicated to promoting the achievements of the museum and to encouraging young people to use the facilities.
Awarded to Roger Morrisroe.
Roger Morrisroe (known as Romo) has recently achieved 50 years of experience as a gliding instructor, a feat never achieved before in the history of BGA. He began gliding aged 17 in 1955 and joined an Air Cadet course at RAF Henlow, soloing in August 1955, and becoming an instructor in 1958. Romo joined the Nene Valley Gliding Club in 1984 and the instructor's team in 1987 and proved an extremely knowledgeable, hardworking, enthusiastic, popular and highly respected member. Romo would have liked to have retired from the demanding role of CFI but has remained to ensure the Club's survival as there was no-one else suitable.
Awarded to Ian Robertson.
Ian Robertson, known as 'Wobby', started parachuting in 1970 and quickly became a BPA Advanced Instructor and Examiner Rigger. He retired in 2008 after 38 years of applying his meticulous approach to teaching students, maintaining par achute equipment and improving safety. His designs, ideas and attitude to rigging, especially student parachute equipment, hugely increased reliability, comfort and confidence. For over 25 years Wobby helped the BPA and its Riggers' Committee to progress standards of workmanship and safety by developing the systems used to train all riggers today.
Awarded to David Wise.
David Wise followed his 1998 RAeC Silver Medal for services to the PFA, by taking on two important voluntary tasks for the RAeC. For 12 years, retiring this year, he helped organise the Awards Ceremony and produced the programme brochure, including writing the abbreviated citations which are also used for the commentary. His biggest contribution was setting up the Club's website in 1999 and he continues as its webmaster. As a major attraction to raise public awareness of the Club, this includes compiling Britain's biggest online aviation events listing. He also set up the RAeC Trust website in 2000.
COWBURN & KAY - OLD AND BOLD TROPHY
Awarded to Derry Moore.
Derry Moore gained his private pilot's licence for balloons in the 1970's and in 1989 his commercial balloon licence. He became a BBAC Inspector in 1979, a BBAC Instructor in 1986 and recently a balloon instructor of the Irish Aviation Authority. Derry was the Chairman of the Balloons and Airships Group of Europe Airsports for nearly 20 years and represented the BBAC on the Royal Aero Club Parliamentary Committee, the BBAC Flying and Technical Committees and NATMAC. Now 86 years old, Derry is still a very active balloonist showing few signs of slowing down and happily no signs of stopping.
NEXUS AVIATION JOURNALIST OF THE YEAR
Awarded to Brain Hope.
Brian Hope has been Editor of the Popular Flying Association's magazine, Popular Flying, since 2001, as a part-time task. Following the renaming of the PFA to the Light Aircraft Association, the magazine was renamed as Light Aviation. He has dramatically transformed a staid bimonthly journal into a vibrant, stylish, high quality monthly magazine eagerly awaited by members. Brian is an enthusiastic private pilot who flies his Jodel all over Europe attending many fly-ins, and regularly visits major American events. His great knowledge allows him to spot new developments and the most interesting improvements. His reports are of outstanding quality, well supported by excellent photographs and fine examples of the articles that have so transformed the magazine.
CERTIFICATE OF APPRECIATION OF THE ROYAL AERO CLUB
Awarded to Charles Crawley.
Charles Crawley made a huge contribution to the conservation of the Royal Aero Club's archive collection at the RAF Museum. Charles served with the RAF and was a Friend of the RAF Museum where he was well known and much loved. Due to Charles' enthusiasm he became a ready volunteer when teams were put together in 2003 to stabilise the RAeC's archives. Full details of Charles' work entitled 'Pins and Needles...' are on the Trust website. In a lovely historical twist, Charles found his own certificate application from the early post-war years among the archives. Tragically Charles and his wife were killed in a motoring accident in late 2009 and this award is made posthumously. They will be greatly missed by everyone at the RAeC, the Trust and the RAF Museum.
Awarded to Hayward Aviation Ltd.
Hayward Aviation, the largest UK aviation insurance broker, has been the principal sponsor of the British Helicopter Championships every year since 2003. This provided for the first time a fully committed backing which made it possible for the British Team to gain experience, skills and confidence. As a result the British Team gained the Ladies World Championship 2005 title and finished with six crews in the top fifteen places. At the 2008 World Championships in Germany the British Team won the FAI Bronze Medal, its highest position ever. Hayward Aviation continues to support the British Team throughout 2010, preparing for the World Championships in 2011.
Awarded to Graeme Fudge of Mazda UK Ltd.
Graeme Fudge is PR Director of Mazda UK Ltd and a competitor in British aerobatics. In 2007, when the UK was successful in its bid to host the 2009 World Aerobatic Championships (WAC), Graeme stepped forward and Mazda UK became the biggest sponsor, providing funding and a fleet of 39 vehicles. Mazda's support enabled the BAeA to contract with QinetiQ for an electro-optical tracking system to monitor aircraft position, an unprecedented innovation that established a completely objective precision system for height and box penalties. Without Mazda UK, driven by Graeme's determination, the WAC would not have been anything like the huge success that it turned out to be.
Awarded to the RAF Museum.
When the Royal Aero Club ceased to have its own premises in the 1970s, the RAF Museum agreed the RAeC archives could be stored at the Museum and cared for by its staff. Secure storage has been provided for around 1,000 boxes of unique archive material, albums, paintings, books, a variety of memorabilia and numerous trophies. Space and assistance is also provided for the work of the volunteers who are restoring and stabilising the collection. The Director of the RAF Museum, Dr Michael Fopp, was also instrumental in acquiring equipment to scan and caption the collection, and banners to illustrate the work of the Royal Aero Club Trust.
COMPANION OF THE ROYAL AERO CLUB
Awarded to Peter Cruddas.
Peter Cruddas rose from humble beginnings in Hackney to become an award-winning entrepreneur. In 1989 he launched CMC Markets, now one of the World's leading on-line trading firms. He has given considerable support to the Royal Aero Club Trust to fund their work in preserving the Royal Aero Club's archive of historical documents and memorabilia, and providing bursaries to assist youngsters in developing their involvement in air sports.
ANN WELCH MEMORIAL AWARD
Awarded to Mark Dann.
Mark Dann became a pioneer of the fledgling sport of paragliding in 1987. By the early 90's he was competing in worldwide competitions, becoming an Instructor in 1992 and a Dual Paragliding Pilot and Senior Instructor in 1994. Mark started his own paragliding and paramotoring school, Beyond Extreme, in 1998 with the help of the Prince's Trust. Mark has trained thousands of students and given hundreds of people from all backgrounds the unforgettable thrill of a tandem paragliding flight. Mark is a member of the British Accuracy Team and led the first British paragliding expedition to Aconcagua in 2008.
---
Fédération Aéronautique Internationale -
UK Awards for 2008
These awards were presented to the UK delegation at the FAI General Conference in Autumn 2009 and are re-presented here.
SABIHA GÖKÇEN MEDAL
Awarded to Claire Scott.
Claire 'Sparky' Scott is the highest-achieving female Formation Skydiving (FS) champion ever. Claire is five times World Champion with British women's 4-way FS Teams (VMax, Airkix & Storm) in 1999, 2002, 2003, 2006 & 2008. With her teams, she is a twice-previous winner of the RAeC Prince of Wales Cup (1999 & 2006) and Gold Medal 2003 as well as the winner of the BPA-awarded Jim Crocker trophy for outstanding contribution to skydiving, in 2006. Claire is an instructor and coach who tirelessly passes on her energy, enthusiasm and knowledge. She was Oxfordshire Extreme Sportsperson of the Year 2008, and is an inspiration.
ALPHONSE PENAUD MODELLING DIPLOMA
Awarded to Peter Halman.
Peter Halman was F2A (Control Line Speed) National Champion consecutively for three years, 1979-81, and then each year during 1986-97, and was also National Champion five times, making 19 times in total. Peter has nine individual World and European Championship medals, including two Golds and five Silvers. Peter was on the British Team that has won the World and European Championships for the last 12 consecutive years (1997-2008) with a total of 20 World and European Championship team medals over 22 years (1987-2008). Peter also holds the current World Record in class 132 F2 Open Control Line Speed.
ANN WELCH DIPLOMA
Awarded to Mark Jackson & Eve Jackson.
Mark Jackson and Eve Jackson made a flight in a microlight over Mount Kilimanjaro to a height of 24,258 feet in an open cockpit trike. On the same flight they also broke the World Record for the time to climb to 6,000 metres and the British record for the time to climb to 3,000 metres.
HONORARY GROUP DIPLOMA
Awarded to the Royal Aero Club Trust.
The Royal Aero Club Trust has conserved and stabilised the Royal Aero Club's huge archive collection, comprising around 1,000 files of documents, photographs and other memorabilia including many famous historical persons. The collection of Royal Aero Club Aviators' Certificates, comprising over 28,000 records and 13,000 photographs of qualified pilots in 1910-1950, have been microfilmed and are now available on the website Ancestry.co.uk for genealogists and researchers. The Trust also promotes involvement in all air-sports by young people and awards bursaries to assist progression in their chosen air sport.
PAUL TISSANDIER DIPLOMA
Awarded to Sheila Bailey.
Sheila Bailey has been actively involved in light aviation for over 20 years, serving on the Popular Flying Association Committee for several years. She has been a Royal Aero Club Council member since May 1998 and from 2000 to 2009 a superb Chairman of the RAeC Medals and Awards Committee. Sheila has distinguished herself by charging her duties with fairness, integrity and judgment.
Awarded to Barry Plumb.
Barry Plumb serves on the Executive Committee of the Light Aircraft Association and is Chairman of its Engineering sub-committee, responsible for the Association's engineering policy and liaising with the five full-time professional engineering staff. He has built two light aircraft, one self-designed, and led other restoration projects. Barry represents Europe Air Sports on the EASA working group on Permits to Fly and other restricted certification, and also maintenance management. Due to his unflagging efforts and commitment, Europe continues to allows recreational pilots to fly amateur-built and orphaned vintage and classic light aircraft under national airworthiness rules.
---
OTHER AWARDS
Major awards from member associations:
R.R.R.A. KING'S CUP
Awarded to Richard Marsden.
The King's Cup air race was first run in 1922 when King George V presented a cu p, making it the first and only air race series to receive royal patronage. It was the first air race to be run on a handicapped basis to allow aircraft of all types to compete, and is still run on a similar basis today. The original cup has been retained and is presented annually. This year's winner is Richard Marsden, who flew his distinctive orange home-build Vans RV6 at 190 miles per hour round a 5-lap course.
R.R.R.A. JUBILEE CUP
Awarded to Craig Beevers.
The Jubilee Trophy for the winner of the British Air Racing Championship is presented annually to the pilot who scores the highest aggregate points over the whole season. The race this year culminated in Alderney in the Channel Islands, with three pilots still in contention, leading to an exciting finale. The race was won by Craig Beevers, appropriately sporting Race Number 1, in his red Siai Marchetti at a race speed over the six laps of 206 miles per hour.
R.R.R.A. SCHNEIDER TROPHY
Awarded to Neil Cooper.
Neil Cooper is this year's winner of the prestigious Schneider Trophy Air Race, flying a Bulldog at a race speed of just under 150 mph, on a course from Bembridge around the Solent. The first race was run in 1913 around a triangular course. Today a full-sized replica trophy is awarded to the winner, the original being hel d in a museum.
B.W.P.A. JEAN LENNOX BIRD TROPHY
Awarded to Rita Boniface.
Rita Boniface has been a member of the BWPA since the early 1970s and on its Committee since 1977. She has served as Events Organiser, Treasurer and Chairman of the Awards and Scholarships sub-committee. Rita has been intimately involved with the awarding of the annual BWPA scholarship for many years. Rita enthusiastically promotes aviation to all, especially young people, and provided inspiration by regaining her own licence four years after recovering from serious injuries sustained in a flying accident.
B.M.A.A. MEDAL
Awarded to Keith Negal.
Keith Negal is a pilot who has given far more to the sport of microlight flying than he has ever taken from it. For over a decade Keith Negal has played a pivotal role in microlighting, both nationally and internationally. In recognition the BMAA awards Keith its highest honour, the BMAA Medal for Sustained, Substantial & Significant Contribution to Microlighting. The Association considers no-one has done more for the cause of microlighting in the UK.
---