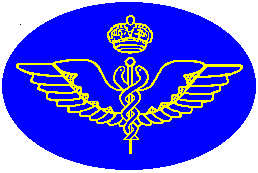 Royal Aero Club Awards & Trophies for 2010
The Royal Aero Club Annual Awards Ceremony
was held at
The RAF Club, 128 Piccadilly, London W1J 7PY
on Wednesday, 11th May 2011
The Awards were presented by
Wing Commander Bob Foster, DFC
(Battle of Britain Hurricane pilot)
---
Official photographs of the event may be viewed on
http://www.hereandnowphotography.com/galleries/311RAeC/
Award recipients are being sent complementary photos.
For additional photos, please contact the RAeC office, as below,
quoting the reference numbers.
Further information may be obtained from
the RAeC General Secretary:
David Phipps,
Royal Aero Club,
31, St Andrew's Road, Leicester LE2 8RE
Tel: 0116 244 0182, Fax: 0116 244 0645
E-mail: secretary@royalaeroclub.org
---
Thanks to:
Breitling Swiss Chronographs
HR Jennings & Co Ltd, Aircraft & General Insurance Brokers
British Airways PLC
for their generous support of the event.
---
The awards for 2010 are:
THE BRITANNIA TROPHY
Awarded to Captain Stephen Noujaim
Steve Noujaim broke the London-Cape Town and return-trip records for aircraft under 1000 kg, originally set by Alex Henshaw in 1939 and beaten only once since. He flew a Vans RV-7 aircraft which he had built himself and modified for the record attempt. Clearances, fuelling and support were arranged and sponsorship obtained. The route was over three 1800 mile legs, from Southend with stops at Tamanrasset and Brazzaville to Cape Town, and return. Steve overcame bureaucratic and weather problems to beat the record times for London to Cape Town by over an hour and for the round trip by four hours. It was also 23 hours quicker than Henshaw's round-trip time.
THE PRINCE OF WALES CUP
Awarded to the British Microlight Team
The British Team for the 2010 European Microlight Championships at Sywell was expertly led by David Daniel. Individual Gold medals were won by Richard Rawes, Robert Grimwood and John Waite; Silver Medals by David Broom and Chris Levings, and Bronze Medals by Paul Welsh and Richard Proctor. The other team members were well placed and contributed to winning the Overall Team Prize by a large margin against a field of 100 competitors from 12 nations.
GOLD MEDAL OF THE ROYAL AERO CLUB
Awarded to Peter Watson
Peter Watson of Birmingham Model Aircraft Club has been a member of the British teams at eleven World and European Free-Flight Championships, flying in the F1C engine-assisted glider class. At the European Championships he has contributed to several team medals and in 1994 won Gold. At the World Championships he was Silver Medallist in 1993 and in 2009 took Gold, the first time the event has been won by a British flyer since the 1950s. Peter has also served on the BMFA free-flight technical committee, both as a member and as chairman.
ROYAL AERO CLUB DIPLOMA
Awarded to Dennis Kenyon
Dennis Kenyon started flying in the RAF in 1952, and has flown 85 aircraft types from Tiger Moths to early military jets. In 1972 he joined Spooner Aviation as a helicopter salesman. He qualified as a Helicopter ATPL, Instructor and Type Rating examiner. He is also a Display Pilot and Evaluator. Dennis has flown 32 types of rotary aircraft. and has amassed over 13,000 flying hours. He has flown in over 1,200 airshows and has appeared in several feature films. He represented Great Britain in four World Helicopter Championships, winning the aerobatic freestyle title in 1992. In 2005 he set up a junior flying scholarship to fund training for a helicopter PPL. He continues to pass on his knowledge by writing articles on helicopter test flights, flight theory and flight safety.
SILVER MEDAL OF THE ROYAL AERO CLUB
Awarded to Alistair and Andrea Hodgson - Team Airkix Freestyle
Andrea 'Pixie' Macleod-Hodgson as the performer and Alistair Hodgson as the freefall videographer are together known as Team Airkix Freestyle. They have been the British Freestyle Skydiving Champions for the last three years and, in summer 2010, they achieved the Silver Medal at the World Championships in Russia. When serving in Northern Ireland in 1992, Alistair had his legs blown off by terrorists but he returned to competitive parachuting at the top level and has made over 5,000 jumps.
Awarded to David Hempleman-Adams and Simon Carey
In September 2010, David Hempleman-Adams and Simon Carey launched from Bristol, with 20 other gas balloons in Gordon Bennett Cup competition. They flew down the west coast of France, and then continued across the Mediterranean, and over Italy. On the fourth day the weather deteriorated and they had to land in Serbia. They took third place; travelling 2,008 km in 82 hours. This is second longest distance achieved by any British team in a Gordon Bennett race since it started in 1906.
BRONZE MEDAL OF THE ROYAL AERO CLUB
Awarded to Phillip Burton
Phillip Burton joined Norfolk Gliding Club in 1990, and is a former police officer specialising in child protection, He ran the Club's cadet scheme, and in 2005 qualified as an instructor. In 2006 he was elected onto the BGA Executive Committee, and was instrumental in establishing their policy and procedures for young people. He was appointed the BGA's Child Protection adviser and has ensured the roll-out of appropriate policies with Clubs nationwide, so that they are compliant with child protection law. His work has been a crucial contributor to the BGA's development of a Junior Gliding Strategy.
Awarded to Ken Craigie
Ken Craigie's career started with Personal Plane Services at Booker and rose from apprentice to become their Chief Engineer. He left after twenty years service, to join the engineering team of the Popular Flying Association (now the LAA) as its Chief Inspector and he has now held this position for twenty years. He is responsible for managing the LAA's nationwide team of 400 field Inspectors, who oversee the work of members who are building, restoring and maintaining their own aircraft. He is also responsible for controlling the issue of Permits to Fly for the LAA's aircraft fleet, handling 200 new issues and 2,500 renewals a year, a workload which has doubled during his service. He also serves on the EASA Working Group on aircraft engineer licences.
Awarded to Mike Gaffney
Mike Gaffney joined the Popular Flying Association (now the LAA) in 1989 and joined its Lea Valley Strut at North Weald, becoming its Coordinator and Council representative for six years. They ran a full programme of meetings and also fly-ins and Young Eagles events. He was elected to the PFA's Executive Committee and served for eight years, and was involved in setting up the Pilot Coaching Scheme and in the search for new Rally and HQ sites. His biggest contribution was the year-round task of Manager of the Trade Exhibition at the annual PFA Rally. From small beginnings, this grew to well over 100 exhibition units, becoming a particularly popular and profitable part of the event.
Awarded to John Moore
John Moore is the originator of the 'Spamfield' fly-in which has become the most popular event in the UK microlight calendar for several years. The first meeting in 2001 attracted 40 visitors to Bembridge. Then, following a move to Sandown, it has grown to a regular attendance of over 400 aircraft, including several from abroad. Every year, John has been the organiser, handling all of the administrative and catering requirements. John has also served on the BMAA Council continuously since 2002, filling a variety of positions including treasurer.
Awarded to Anthony Smith
Taff Smith has been involved in aviation for over 40 years. He developed Breighton airfield from scratch and set up a museum there and also became a display pilot. In October 2010 he made an attempt at the under 1000 kg London-Capetown and return record in a Glasair, planning to make only one stop in Nigeria. Unfortunately weather forced a diversion to Namibia, 700 miles short of Capetown. In so doing he claimed the records for London to Nigeria and to Windhoek. While practicing for the race, he had also broken the record for John O'Groats to Lands End.
CERTIFICATE OF MERIT OF THE ROYAL AERO CLUB
Awarded to David Bluett
Dave Bluett has been involved in Hang Gliding for well over 25 years, initially as a pilot and competitor in the UK National Hang Gliding Championships. When he retired from competition, he became a volunteer on the BHGA and BHPA Hang Gliding Competitions Panel for 20 years. Throughout he has acted as the scorer both at home and abroad. In the early years this was a complex task checking film negatives while struggling to meet deadlines, but modern technology has made it easier and facilitated feedback for coaching. His efforts have helped hone the skills of many pilots and been the foundation for British success at international level.

Awarded to Kieran Brady
Kieran Brady has been a Parachute Drop Zone Operator in Scotland for some 27 years. During this time, he has worked with the BPA Technical Officer and National Coach & Safety Officer on sport parachuting operational inspections and audits throughout the UK. Keiran is currently Chairman of the BPA Pilots' Subcommittee and is a pilot flying examiner. He is on the BPA team looking at European regulation and attends meetings overseas on future developments in the use of aircraft in the parachuting role.

Awarded to Dean Fisher
Dean Fisher started parachuting in 1965 and has been in the sport ever since. From 1970 to 2007, he was a member of the Barnstormers Display Team. He qualified as an Instructor and became chief Instructor at Langar. He has been instructing students for more than 42 years, and has worked with over 20,000 student parachutists. Now in his 70's he continues to serve at Langar as a volunteer.

Awarded to Stuart Morris
Stuart Morris is a highly experienced jumper and international competitor, and owns the Parachute Centre at Cark in Cumbria. His day job is as a health and safety expert and trainer. He has combined these interests to develop a systematic approach to the management of risk in sport parachuting, leading to "The BPA Drop Zone Operations Safety Management System". This has led to a significant reduction in the number of incidents and claims in the sport, which BPA's insurers have recognised.

Awarded to Alfred Tunnicliffe
Alf Tunnicliffe is a lifelong enthusiast for many branches of model flying. Starting in 1953 with Cannock Outlaws, in 1983 he was a founder member of Tupton & District MAC which became Chesterfield Aeromodellers; and he was club chairman for 22 years. He served on the BMFA Midland Area for 16 years firstly as Club Representative, and then as Delegate and Achievement Scheme Coordinator. He is currently their Secretary and Treasurer, He has led the organisation of the very successful Midland Area 'Festival of Flight' since 2004.
Awarded to Tom Walker
Tom Walker has been Secretary of the Sunderland & District Model Aircraft Club for over 45 years. Concurrently he has served the North-Eastern Area of the British Model Flying Association as its Treasurer for the past 43 years. He is well respected as a committed and tireless worker.
SALOMONS TROPHY
Awarded to David Boxall
David Boxall is a leading balloon designer and has been responsible for many ballooning achievements. These include many special shape balloons and balloons for expeditions. His designs have included Rozière balloons that have flown in the Arctic and the series of Rozières which culminated in the round the world flights by Breitling Orbiter 3 and Steve Fossett . His most recent design was the GB1000 hydrogen balloon flown by David Hempleman-Adams and Simon Carey in the 2010 Gordon Bennett Race. The balloon performed flawlessly from Bristol to a landing in Serbia.
COWBURN & KAY - OLD AND BOLD TROPHY
Awarded to Doug Gregory
Doug Gregory flew operationally in WW-2 and is still flying today. He learned to fly with the RAF in 1941. He flew two tours on Beaufighters and Mosquitos on bomber escort and shot down two Ju-88s, being awarded a DFC. He then became a test pilot at a Maintenance Unit in India. After the war he became a schoolteacher. In the 1960s, encouraged by a neighbour, Des Biggs, he returned to flying; initially gliding and then powered flying. He and Des constructed a pair of scale-replica SE-5A aircraft, home-built under the Popular Flying Association, which were completed in 1987. Doug and Des formed an airshow display act for over 20 years, appearing more than 100 times. Doug, now aged 87, is still flying and maintaining his own aircraft, and still has a Display Authorisation.
NORTON-GRIFFITHS CHALLENGE TROPHY
Awarded to Dr David and Patrick Joyce
David Joyce built a Europa and has flown it extensively throughout Europe. His son Patrick suffers from Motor Neurone Disease. In 2010 David undertook three Tiger Club Dawn-to-Dusk challenges. On two of them he was accompanied by Patrick, who participated fully in the projects. The first was a flight from Gloucester via Cork and Londonderry to photograph each lighthouse on the Irish west coast. The second, which David flew solo, was a flight to each of Wellington's battlefields in one day, firstly over Waterloo and then to Spain and Portugal. Lastly together they flew over each of the islands around the coast of Great Britain depicted on the 1/2 mil aeronautical chart. David and Patrick raised over £8,000 sponsorship for MND research through these three flights.
PRESIDENT'S BREITLING TROPHY
Awarded to Ben Alford
Ben Alford is 14 years old and has been flying radio controlled model hot air balloons for three years. Apart from flying, he always has a complete spares and repair kit and can solve most people's problems on site. He also makes excellent quality baskets and envelopes for customers in the UK and abroad. His best achievement so far was winning a Bronze Medal at the European Model Balloon Championships in Germany last year. Ben promotes hot air ballooning by giving talks and demonstrations. He is also a competent crew member for full-size balloons, including crewing at this year's British National Championships.
BREITLING CERTIFICATE OF APPRECIATION
Awarded to James Griffin
Jamie Griffin is a junior member of Novocastria Model Aircraft Club. He has shown outstanding progress in F2D Combat since his first competition in 2008. He has been a regular competitor in regional competitions, and has been well placed in the national F2D leagues against senior opponents. This led to selection for the 2010 British team for the World Championships, at the age of 15.
Awarded to Craig Attwood and Sophie Gallimore
Craig Attwood and Sophie Gallimore were two of a group of 36 students who constructed a kit aircraft under the Light Aircraft Association Build-a-Plane educational project, supervised by members of the Devon Strut. They started by helping build one wing in North Devon and then continued to travel to Exeter once a week for 20 months to help complete the aircraft. They have since supported the completed aircraft at many public events, including Farnborough, RIAT and Aero Expo. Usually this involved helping to transport and rig the aircraft as well as helping exhibit it.
CERTIFICATE OF APPRECIATION OF THE ROYAL AERO CLUB
Awarded to John David Jones
Dave Jones was a member of Southport MAC. He flew free flight scale models until the late 1980's when he had to give up due to an industrial injury. He is a talented artist and a member of the Guild of Aviation Artists and the American Society of Aviation Artists. He has had paintings hung at the RAF Museum, Fleet Air Arm Museum, and the Shuttleworth Collection. Over the years Dave has kindly presented more than 20 original paintings as prizes for the North West Area BMFA Woodvale Rally and for the BMFA magazine.
Awarded to 46F (Kensington) Squadron, Air Training Corps
46(F) (Kensington) Squadron, Air Training Corps has over many years given invaluable support to the Royal Aero Club in the discharge of its annual ceremonial duties. This has forged a link between those starting out in an aviation-related career and those honoured for their achievements in sporting and recreational aviation.
ANN WELCH MEMORIAL AWARD
Awarded to John Jeffries
John Jeffries started gliding with the London Gliding Club at Dunstable in 1949. During National Service at RAF Lyneham he became an instructor with their gliding club, which was the start of his lifetime career. In 1966 he became the Manager and CFI at Dunstable. Their fortunes were improved by becoming agents for Schleicher gliders, and he started evening courses. He recognised the need for early solo pilots to get cross-country experience and started lead-and-follow courses, which other clubs copied and still use today. He continued as Manager and CFI until 2010, retiring because of insurance age limitations. He had flown over 80 types of glider. During these 60 years he has sent over 600 pilots solo and made more than 120,000 instructional flights.
COMPANION OF THE ROYAL AERO CLUB
Awarded to Dr Brian Bramson
Brian Bramson is the son of Alan Bramson, who was Chairman of the Panel of Examiners for 10 years and a well-known aviation author, and was awarded the RAeC Diploma in 1995. Brian has made a very generous gift to the RAeC Trust in memory of his parents. This will enable the Trust to continue its programme of bursaries for young people to develop their participation in flying.
---
Fédération Aéronautique Internationale -
UK Awards for 2009
These awards were presented to the UK delegation at the FAI General Conference in Autumn 2010 and are re-presented here.
FAI DIPLOMA FOR OUTSTANDING AIRMANSHIP
Awarded to Germano Alvares Da Silva (Posthumously)
Germano Alvares Da Silva was a Brazilian-born BPA member. In May 2008 he was on board a Pilatus Porter at Toledo in Spain. Also on board were three tandem pairs, two camera flyers, a fun jumper and the pilot. Just prior to exiting at 12,800 feet, the aircraft stalled and started to spin, throwing those inside against the wall opposite the door preventing them from exiting, and then the left wing detached from the airframe. One tandem pair was ejected from the aircraft, and Germano helped some others safely out of the aircraft at a very low altitude, thereby saving their lives. But he was unable to extricate himself in time and was killed along with the pilot.

---
OTHER AWARDS
Major awards from member associations:
R.R.R.A. KING'S CUP
Awarded to Roderick Morton
The Royal Aero Club Records Racing & Rally Association organises races at venues mainly in the UK but also at venues in Europe. Racing Pilots compete on a handicap basis in aircraft with speeds ranging from 100 to nearly 250 mph. The King's Cup was presented by King George V for an air race which was first run in 1922 and continues today. In 2010 the winner was Roderick Morton flying his Slingsby T67, registration G-KONG.
R.R.R.A. JUBILEE CUP
Awarded to Neil Cooper
The Royal Aero Club Records Racing & Rally Association Jubilee Trophy for the British Air Racing Championship is presented on an annual basis to the pilot who scores the highest aggregate points over the whole season. Neil Cooper, in his Beagle Bulldog registration G-JWCM, achieved the highest total points for 2010.
B.P.A. JIM CROCKER SWORD
Awarded to Brian Laithwaite (Posthumously)
The British Parachute Association Jim Crocker Sword is a special award conferred in recognition of an exceptional and sustained contribution to sport parachuting. It has been awarded to Brian Laithwaite in memoriam. Brian was an exceptional skydiving coach and load organiser who served as Club Chief Instructor at two Parachute Centres. He devoted decades of commitment to training and mentoring the next generation of skydivers. His enthusiasm immediately put students at ease, and he was always willing to listen and advise. He knew how to make learning fun. He encouraged and inspired everyone with whom he came into contact. Brian suffered a fatal entanglement in summer 2010 and is a huge loss to the sport.
---