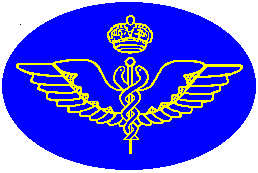 Royal Aero Club Awards & Trophies for 2011
The Royal Aero Club Annual Awards Ceremony
was held at
The RAF Club, 128 Piccadilly, London W1J 7PY
on Thursday, 17th May 2012
The awards were presented by the Club's President,
HRH the Duke of York
---
Thanks to:
Breitling Swiss Chronographs
HR Jennings & Co Ltd, Aircraft & General Insurance Brokers
British Airways PLC
for their generous support of the event.
---
The awards for 2011 are:
THE BRITANNIA TROPHY
Awarded to David Sykes
Dave Sykes is the first paraplegic to have achieved a solo flight from England to Australia. He had been seriously injured in a road accident in 1993, and though disabled, pushed himself to a better recovery than the doctors expected. He learned to fly in 2000 and flies flex-wing microlights fitted with hand controls. He made a series of long distance flights around Europe totalling nearly 30,000 miles. In 2011 came the major challenge, which involved coping with persistent turbulence, monsoons and long water crossings. The 12,000 mile solo flight to Australia was successfully completed in four months.
THE PRINCE OF WALES CUP
Awarded to the F4C Scale Model World Championship Team
The F4C Radio-controlled Scale Model competition requires competitors both to have built their own models, which are judged on accuracy, complexity and realism, and to fly sequences of precision manoeuvres. The British team has won medals at 18 of the 20 biennial FAI World Championships. The current team of Peter McDermott with a DH9A, Mick Henderson with a DH9 and Dave Knott with a Hurricane won the Gold Medal at the 2010 World Championships.
GOLD MEDAL OF THE ROYAL AERO CLUB
Awarded to David Hempleman-Adams & Jonathan Mason
David Hempleman-Adams and Jonathan Mason won the 2011 Americas Challenge Gas Balloon Race. Starting from Albuquerque in New Mexico, they eventually made a difficult night landing in a strong wind, finishing just 2km from the Canadian Border. They covered 1568 km in a flight time of 71 hours and 32 minutes, which was a duration record for the event.
Awarded to Ken Morrissey
Ken Morrissey was a member of UK Team for the F2A Control Line Model Speed competition at the 2011 FAI European Championships in Poland. This consists of four rounds of nine timed laps, and on each round Ken progressively raised the World Record. Eventually he increased it from 302.5 kph to 307.4 kph, an unprecedented margin in a sport where the top competitiors are usually only tenths apart.
ROYAL AERO CLUB DIPLOMA
Awarded to Douglas Jones
Doug Jones joined the Bristol and Gloucestershire Gliding Club after World War Two. He was elected to its Committee in 1952 and became a Director in 1976, a role which he still serves. He became an instructor in 1950 and was CFI from 1975 to 1980. He was the club's chief engineer from 1951-1975, becoming a BGA Inspector and then Senior Inspector in 1956. He was a tug pilot from 1957 to 2009 and a tugging examiner from 1974. As well as his club duties, he served on the BGA Technical Committee from 1959 until 2011, specialising in wood and composite repairs, and became its Chairman from 1985-1991. He eventually retired in 2011 due to failing eyesight. He has given over 60 years of dedication and skilful service to gliding.
Awarded to F2A Control Line Model Speed European Championship Team
The British Team has won all of the F2A Control Line Model Speed European and World Championships for the last 14 years. The team of Ken Morrissey, Paul Eisener and Peter Halman won team Gold at the 2011 European Championships with a record aggregate speed of 907.5 kph, the first time that 900 kph has been beaten.
Awarded to British Hot Air Balloon Team
Six pilots, Richard Parry, Rupert Stanley, David Bareford, David Usill, Neil Gabriel and Rick Vale qualified to be members of the British Hot Air Balloon Team at the 2011 European Championships. They were competing against 77 pilots from 22 countries. Five finished in the top 30, two in the top ten, with David Bareford taking Bronze.
SILVER MEDAL OF THE ROYAL AERO CLUB
Awarded to David Corbett (posthumously)
David Corbett followed Army service by running the family farm in Herefordshire. His family had bought Shobdon airfield and turned it into a thriving GA centre. It is the home of the Herefordshire Aero Club, and David was a founder menber of the Shobdon Strut of the PFA (Now LAA). David was also a founder member and long-term Treasurer of the Flying Farmers Association. He served on the executive Committee of the LAA and on national committees promoting air sport and safety. He built and flew a Europa and was Treasurer of the Europa Club, and was also part owner of the Spectrum Microlight Company. He will be remembered for his achievements as an enthusiast and promoter of air sport.
Awarded to Diana King OBE
Diana King's father was a glider pilot and she flew with him from an early age. She joined the Midland Gliding Club in 1969, and is still an active pilot. She completed her FAI Silver Badge in 1976, Gold in 1986 and Diamond in 2002. She became Secretary of the Club in 1982 and was then elected to the British Gliding Association Executive Committee for five years from 1984, and again from 2002. She is currently Chairman of the BGA's Development Committee, and its representative on the CCPR (now the Sport and Recreation Alliance). From 2004 to 2009 she was General Secretary of the Royal Aero Club and she is the UK representative on the FAI Environmental Commission. Diana has given many years of service at both club and senior level in air sport.
BRONZE MEDAL OF THE ROYAL AERO CLUB
Awarded to John Broad
John Broad joined the PFA (now LAA) in 1982. He is also Chairman of the Vintage Aircraft Club, and a member of the LAA Oxford Strut and of the Windrushers Gliding Club at Bicester. He was elected to the Executive Committee of LAA in 2006 and served as Association Secretary and on several internal committees, including the Pilot Coaching Scheme. He also represents the LAA and VAC on a number of external committees, primarily addressing safety and environmental issues, including GASCO and GAAC. He has made a big contribution in promoting and protecting air sport in Britain.
Awarded to Jamie Griffin
Jamie Griffin started flying Model Aircraft Control-Line Combat in 2006 at the age of 11. This discipline is unusual in that juniors can compete against adults, and after only one year he achieved overall fifth place in the UK National Championships. He had further successes in domestic competitions and, aged 14, he was selected as the junior member of the UK team for the 2009 FAI European Championships. In 2010 he took the Junior Silver Medal at World Championships. At the 2011 Europeans, he took the Junior Bronze Medal and was placed 8th overall, beating the three adult UK team members. These international successes qualify him as the RAeC's youngest medal winner.
Awarded to David Lloyd-Jones
David Lloyd-Jones started aeromodelling in 1947 and continues today. He became involved with the Society of Model Aeronautical Engineers (now the BMFA) in 1979. He has served on the Committee of the North West Area since 1982 as Treasurer, PRO and Chairman, and has also served for the Northern Ireland Area. He was Secretary of the BMFA Radio Control Power Technical Committee for several years and has been an Instructor and Examiner for 25 years. He has also been organiser of several competitions and events such swap-meets. Model flying has benefitted greatly from his efforts.
Awarded to John Mitchie
John Mitchie is a retired airline Captain and builder of a Vans RV aircraft, and has helped with the builders' tent at several PFA and LAA Rallies and Aero Expo. Over the past two years, he has been heavily involved as instructor and supervisor on the Build-a-Plane project undertaken at Yateley School, being present at all work-sessions. He was responsible for exhibiting the part-built aircraft at several airshows including Farnborough and Fairford.
Awarded to Andrew Pook
Andy Pook started parachuting in 1985 and has made over 7,300 jumps. He is a leading competitor in formation skydiving. He has been a National Champion in 8-way every year from 1999 to 2011, and in the British team at international championships on six occasions. In 2003 he was a National Champion at both 4-way and 8-way. He has been involved in promoting formation skydiving through coaching programmes. His passion and leadership has sustained participation and success in the sport.
Awarded to Chris Thomas
Chris Thomas started skydiving aged 17 and has made over 8000 jumps. He has won several medals in competitions, and has qualified as an instructor and rigger. He took over the management of Thomas Sports Equipment from his father 18 years ago. They are the only British manufacturers of parachutes for sport, and for emergency use in gliders and light aircraft. Their quality is acknowledged by certification from the CAA, BSI and FAA. He is currently Vice-President of the European Association for Safety Parachutes, which aims to harmonise standards across Europe. He has been a successful sport parachutist and made a major contribution to the development of parachuting equipment.
CERTIFICATE OF MERIT OF THE ROYAL AERO CLUB
Awarded to Reginald Bradbury
Reg Bradbury joined the PFA (now LAA) in 1983, and since 1988 he has been Chairman of its West Midlands Strut. This is one of the largest local branches, and runs a full programme of meetings and events, including an annual fly-in. He has been a volunteer worker at all of the PFA Rallies for more than 20 years. As Strut representative, he has made a valuable contribution to the National Council for 23 years. He has been a particularly well-respected background worker for the Association.
Awarded to Jen Buckenham
Jen Buckenham became involved with the British Aerobatic Association in the early 1990's, where her husband Nick was a regular competitor and judge. She progressively took on several administrative tasks. After a few years, this led to her joining the board of Directors and responsibility for planning competitions, control of the registration and scoring office, and management of membership and contest finances. Her husband has recently become Chief Judge at FAI World and European Championships, and Jen has extended her work to the administration of these international events.
Awarded to David Hall
David Hall has been an active member of the Light Aircraft Association's Youth and Education Strut (YES) since its inception in 1997. He used his experience in teaching to devise several features to interest youngsters in aviation, ranging from dummy airband radios to templates for flying models, and he produced guidance notes to use when visiting airfields. He obtained invitations for YES to have stands at a variety of airshows, including Farnborough, Fairford, Aero Expo and Shuttleworth. He has been an inspirational and innovative leader.
Awarded to the 2011 KARA Team
The British Kite Association Altitude Record Attempt Team was led by Dennis England, Scott Butler and Kevin Heasman. They had been undertaking development work for the attempt since 2006. This culminated in July 2011 on RAF ranges in Lincolnshire, where they achieved a new British Record for altitude of kites flown in train, of 18,600 feet, beating the record of 14,000 feet set by Samuel Cody more than a century previously in 1904.
Awarded to Paragliding Cross-Country League Team
The BHPA Paragliding Cross-Country League is organised by Richard Bungay, John Stevenson, Matthew Church and Richard Westgate. The league is a year-long competition to encourage participation in the sport in the UK. It was started by enthusiastic volunteers in 1985. Emphasis is placed on safety development and on providing graded tasks to develop experience. Recording of flights has been enhanced by modern electronics, permitting automatic scrutiny and immediate claims to be made. Any qualified pilot can enter, and the annual championships are decided on the six best performances in the year from each entrant. It is the foundation for record attempts and FAI international competitions.
Awarded to David Masson
David Masson is an experienced cross-country glider pilot. For several years, for eight months each summer, he has voluntarily provided a weather forecast tailored to gliding, distributed each evening by e-mail with an update early the next morning. This uses his knowledge of local conditions to provide guidance on task settings. He has been a leading proponent of 'Competition Enterprise', where pilots gain points for imteresting and demanding cross-country flights, exporing the boundaries of the possible.
COWBURN & KAY - OLD AND BOLD TROPHY
Awarded to Ernest Horsfall
Ernie Horsfall was born in 1918 and learned to fly in the mid 1960's. He joined the PFA (now the LAA) in 1967, and soon became established as an expert on Jodel aircraft. His sought out Jodels for sale around Europe, and flew or trailered them back to his base at Blackpool. Some were resold quickly, but several were subject to high quality rebuilds, eventually handling about 40 aircraft. He became a PFA Engineering Inspector in 1971 and also became an Inspector for the Icelandic CAA. He served on the PFA Executive committee for several years and was awarded an RAeC Bronze medal for 1997. He had to give up flying last year when his insurers would not cover him because of age, but he is still serving as a volunteer Inspector supervising several LAA aircraft, and last summer he drove 500 miles each way to attend the RSA French national Rally, at the age of age 93.
NORTON-GRIFFITHS CHALLENGE TROPHY
Awarded to Patrick & Linda Elliot
Patrick Elliott was a Captain with British Airways. He built a Rutan Long-Ez from plans, taking 16 years. When he retired, he and his wife Linda set off on a round-the-world tour. They started via India and Malaysia to Australia, taking two months. They then continued via Indonesia and the Philippines to Taiwan. They were refused permission to fly via Russia, so they shipped the aircraft to Vancouver. They continued across Canada and America, including visiting the EAA Convention at Oshkosh, and eventually returned home via Greenland and Iceland. They arrived home a year and a day after their departure. This award acknowledges their adventurous spirit, tenacity in the face of bureaucracy, their airmanship and navigation.
PRESIDENT'S BREITLING TROPHY
Awarded to Yateley School
In 2009, Yateley School won a bid to build a kit aircraft, sponsored by Boeings and the Royal Aeronautical Society. The team consisted of Jake Bland, Chris Draper, Chris Hill, Luke Morgan, Grace Roaf, Connor Simpson and Oliver Vass> They were involved in all stages of the construction. They have shown real dedication and have learned a variety of engineering skills. As well as the weekly building sessions, they have taken part in a variety of other aviation-related activities. They exhibited the part-built aircraft at several air shows, including Farnborough. Some of them have gone on to work experience at airfields and with British Airways.
BREITLING CERTIFICATE OF APPRECIATION
Awarded to Billy Elliston
Billy Elliston is now 21 and has been paragliding since he was 14 years old. He is a trainee Instructor with the Green Dragons Aerosports School. He has been a keen competitor in accuracy competitions. In 2011 he won became the UK individual and team Champion, and was in the UK team at the World Championships.
Awarded to Simon Sykes
Simon Sykes is now 21 and has been parascending and paragliding for several years, He is a trainee Instructor with the Green Dragons Aerosports School and with the Scouts. He has committed many weekends to introducing younger scouts to the sport and has served for two years on the BHPA Accuracy Panel. He has been a keen competitor in paragliding accuracy competitions, and was in the UK team at the 2010 European Championships in Turkey. In 2011, he was runner up in the UK nationals and was in the winning team in the European Parascending Accuracy Grand Prix.
CERTIFICATE OF APPRECIATION OF THE ROYAL AERO CLUB
Awarded to Lucy Smeaton
Lucy Smeaton has recently retired after several years as volunteer webmaster of the Royal Aero Club Trust website. She has developed the content of the site, expanding the information on the Trust's activities. These include the Bursary scheme, particularly covering the personal achievements of the recipients; also information on the conservation work organised by the Trust on the Royal Aero Club archives, illustrating the results achieved.
Awarded to the NADFAS Volunteers
The archives of the Royal Aero Club had been stored in nearly 1000 boxes at the RAF Museum at Hendon since the 1970's. One of the major objectives of the RAeC Trust was to arrange for conservation, indexing and photographing, to enable research access and selective display of this unique and historically important collection. This included thousands of documents and photographs, along with art-works, trophies and other items. The work started in 2004, staffed by volunteer experts from the National Association of Decorative and Fine Arts Societies (NADFAS). Twenty people have been involved, under the leadership of Andrew Dawrant and Tony Woollard. The work is still continuing, but the fruits of thousands of hours of work can now be seen on the collection's own website.
Awarded to David Cowden
David Cowden set up the British Aerobatic Foundation in 2005. The objective is to raise funds for training young aerobatic pilots, and for members of the UK team for the World and European Championships. The Foundation has provided training for novices who have gone on to win Standard and Intermediate competitions, and has enabled the UK team to appear regularly in the top five in Championships, including Bronze in the Europeans.
ANN WELCH MEMORIAL AWARD
Awarded to Tim Cox
Tim Cox became a hang-gliding instructor in the late 1980's at the Sussex College of Hang Gliding near Lewes. Following retirement of the owner, he took over the business, and has progressively built up its activities and reputation. He has added Paragliding to their curriculum, moved to new premises, and employed an increasing team of Instructors. It is now regarded at the pre-eminent school in the UK, launching a constant flow of newly qualified pilots.
COMPANION OF THE ROYAL AERO CLUB
Awarded to Robert Brooks
Robert Brooks is Chairman of Bonhams 1793 Ltd, a leading auction house. Over several years, he has arranged for his professional staff to provide valuable advice and guidance to the Royal Aero Club and the Trust regarding our collection of paintings, trophies, historical artefacts and documents.
SPECIAL AWARD - "BEST OF THREE BALLOONS" TROPHY
Awarded to David Bareford
This is a special award of a vintage trophy from the RAeC Collection, which was made by Tiffany's in 1906; it was once presented to CS Rolls. David Bareford has achieved over 30 years of success at the top level of Ballooning competition. He has competed in nearly all of the World and European Championships since 1977, and has rarely been outside the top ten. He has been World Champion twice and European Champion three times. He has also been British Champion several times and has achieved successes in many other international competitions around the world. He is one of the few people in the World, and the first from Britain, to have gained a Gold Badge flying only hot air balloons. He has received awards from the BBAC and the FIA Ballooning Commission, and a RAeC Gold Medal in 1996. This award is to recognise his lifetime of victories and his continued successes in recent years.
---
Fédération Aéronautique Internationale -
UK Awards for 2010
These awards were presented to the UK delegation at the FAI General Conference in Autumn 2011 and are re-presented here.
F.A.I. GOLD MEDAL
Awarded to David Hempleman-Adams
David Hempleman-Adams has made many record and special flights in hot-air and gas balloons and in airships, far exceeding any other British pilot. These included World altitude records in different classes of balloon; the first solo flight across the Andes; a 132 hour flight passing within a degree of the North Pole; two Atlantic crossings in open-basket balloons; and victories in the Americas Challenge and Coupe Gordon Bennett long-distance gas balloon races. This award markes a unique career of achievement.
F.A.I. PAUL TISSANDIER DIPLOMA
Awarded to Carr Withall
Carr Withall has a many years of experience both as a commercial pilot and in glider flying. He has led the British Gliding Association's airspace team for nearly 20 years. He has negotiated the protection of gliding interests in major changes of UK controlled airspace, and in the introduction of new technologies for airspace management. His objectivity is highly regarded by the CAA, and he has participated in several airspace working groups covering all aspects of general aviation. He has actively supported several gliding clubs in negotiations about local airspace issues.
F.A.I. GROUP DIPLOMA OF HONOUR
Awarded to Breitling (UK) Ltd
Breitling (UK) Ltd have been the major sponsor of the Royal Aero Club's Annual Awards events for many years. In particular their funding of the high-quality programme brochure has greatly enhanced the events and enabled extra copies to be produced for public relations purposes. They have also established the "President's Breitling Trophy" awarded to young people for outstanding achievement in aviation and air sport.
---
OTHER AWARDS
Major awards from member associations:
R.R.R.A. KING'S CUP
Awarded to Malcolm Montgomerie
The King's Cup was first run in 1922 and is the most prestigious race of the handicap air racing season. In 2011 it was flown at Sywell on 14th August. The winner was Malcolm Montgomerie in Cessna 152 G-BJWH,
R.R.R.A. JUBILEE TROPHY
Awarded to Geoffrey Boot
The Jubilee Trophy is awarded to the British Air Racing Champion, scoring the highest aggregate points over the season. The 2011 winner was Geoffrey Boot in Siai-Marchetti SF260 G-NRRA.
---