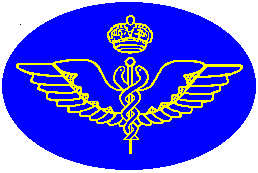 Royal Aero Club
---
Fédération Aéronautique Internationale Awards
UK Recipients
These awards are usually presented to the UK delegation at the FAI General Conference each autumn, and are then re-presented at the following RAeC Awards Ceremony.
This list contains the UK recipients, extracted from the lists of award winners on the FAI website. Abbreviated citations have been included where available - it is hoped to expand these as more information comes to light.
Note that early awards included British Empire citizens.
---
FAI - GOLD AIR MEDAL
1926
Sir Alan Cobham
1934
C.W.A. Scott
1937
Jean Batten
1950
Air Commodore Sir Frank Whittle
1956
Peter Twiss
1961
Sir Geoffrey de Havilland
1980
Ann Welch
1987
Henry Kremer
1999
Brian Jones
Brian Jones, partnered by Bertrand Piccard and flying Breitling Orbiter 3, made the first non-stop balloon flight around the world in March 1999. He was born in Great Britain in 1947 and developed his passion for ballooning in 1986. He acquired a commercial balloon pilot's license, and in 1989 became a ballooning instructor and examiner. He was project manager of the attempt, responsible for the construction of the gondola and the flight systems. The circumnavigation took nearly 20 days and covered a distance of 40,879 kilometres. The flight started from Chateau d'Oex in Switzerland and landed near Mut in Egypt.
2005
Richard Meredith-Hardy.
Richard Meredith-Hardy has made an exceptional contribution to microlighting. He is not only a pilot of exceptional skill, courage and dedication but has also very actively participated in the development of the sport worldwide. He was born in 1960 and gained his microlight licence in June 1984. In 1985 he set a record for a non-stop flight from Lands End to John O'Groats in 11 hours and also organised and flew the Trans-Africa Microlight Expedition from London to Cape Town. He helped organize and flew in the crossing of the Channel by 80 microlights during the Paris-London-Paris rally of 1993 and later the Great Adventure Microlight Race from Madrid to London. He was British Champion in 1987, 1988 and 1990; winner of the Round Britain Rally in 1989 and 1996; European Champion in 1988 and World Champion in 1990 and 1992. In May 2004 he became the first person to fly a microlight over Mount Everest (over 29,000 ft), and he did it towing a hang glider. In December 2004, he towed the hang-glider over the Summit of Mount Aconcagua in South America (over 22,800 ft.). He was Sub-Editor of the FAI Sporting Code Section 10 (Microlights) for many years before becoming Editor, making many innovative contributions. He has served as Competition Director of FAI World and European Championships eight times and numerous times as a member of the FAI International Jury. He is one of the heroes of the microlighting world and a continuing example to other microlight pilots and to those who have yet to experience the sport.
2010
David Hempleman-Adams
David Hempleman-Adams has made many record and special flights in hot-air and gas balloons and in airships, far exceeding any other British pilot. These included World altitude records in different classes of balloon; the first solo flight across the Andes; a 132 hour flight passing within a degree of the North Pole; two Atlantic crossings in open-basket balloons; and victories in the Americas Challenge and Coupe Gordon Bennett long-distance gas balloon races. This award markes a unique career of achievement.
---
FAI - BRONZE MEDAL
1965
Henry Nicholls
1969
Ann Welch
1971
Ronald Moulton
1982
James Black
1985
Capt. E. Brown
1995
Dr. Thomas Zeally.
Tom Zealley gave many years of service to gliding in the UK. He was Chairman of London Gliding Club and Vice-president of the BGA. He was Chairman and later a Vice-President of the Royal Aero Club. He was the UK delegate to the FAI Gliding Commission, becoming its Vice-President. He was also an active and influential member of the FAI Council and an innovating president of the Statutes Committee.
2001
Neil Robertson
---
FAI - DE LA VAULX MEDAL
Awarded to holders of absolute world records set in the preceding year.
1938
Ft. Lt. B.K.Burnett
1938
Ft. Lt. A.N.Combe
1938
Ft. Lt. R.T.Gething
1938
Sqd. Ldr. R.Kellett
1945
Grp Capt. Hubert Wilson
1946
Grp Capt. E.M. Donaldson
1953
Mike Lithgow
1953
Sqd. Ldr. Neville Duke
1956
Peter Twiss
1998
Brian Jones
Breitling Orbiter 3
1998
Colin Prescott
Cameron R-900
1998
Andy Elson
Breitling Orbiter 2
2000
Michael Kendrick
2000
James Dexter
2004
David Hempleman-Adams.
David Hempleman-Adams broke the World Altitude Record for hot-air airships in December 2004, for which he has also been awarded the RAeC Britannia Trophy. This completed the set, as he had also previously broken the speed, distance and duration World Records for hot-air airships. He currently holds 33 FAI World Records for Balloons and Airships plus six for fixed-wing flying, and has made several notable long-distance balloon flights. He has flown over the Andes, made a flight from Spitzbergen to within a degree of the North Pole, and flown a balloon with an open basket across the Atlantic.
---
FAI - LOUIS BLERIOT MEDAL
Awarded to holders of speed, altitude or distance records set in the preceding year.
---
FAI - SABIHA GOKCEN MEDAL
Awarded for exceptional achievement by female pilots.
2006
Tamsin Causer
'Taz' Causer had been skydiving for only 9 years and 850 jumps, but her achievements have been exceptional. In 2002, she began a series of record-breaking jumps, in both Formation Skydiving and Canopy Formation. She participated in setting UK national records and then as part of ever-larger multi-national jumps. She also raised substantial amounts for charity from sponsorship. She participated in the women's world record 151-way formation skydive and three absolute world records: the 85-way canopy formation, 400-way formation skydive and 960-way mass freefall jump. She had also been awarded a RAeC Bronze medal. Unfortunately she was killed in a training accident in May 2006, and the award is presented posthumously to her family.
2008
Awarded to Claire Scott.
Claire 'Sparky' Scott is the highest-achieving female Formation Skydiving (FS) champion ever. Claire is five times World Champion with British women's 4-way FS Teams (VMax, Airkix & Storm) in 1999, 2002, 2003, 2006 & 2008. With her teams, she is a twice-previous winner of the RAeC Prince of Wales Cup (1999 & 2006) and Gold Medal 2003 as well as the winner of the BPA-awarded Jim Crocker trophy for outstanding contribution to skydiving, in 2006. Claire is an instructor and coach who tirelessly passes on her energy, enthusiasm and knowledge. She was Oxfordshire Extreme Sportsperson of the Year 2008, and is an inspiration.
---
FAI - AIR SPORT MEDAL
| | |
| --- | --- |
| 1993 | Les Purfield |
| 1994 | David Hamilton |
| 1994 | Tom Hardie |
| 2002 | Norman Pritchard |
| 2003 | Victor Thorne |
| 2004 | Marcus Green |
| 2005 | Tony Pinner |
| 2007 | Nigel Tasker |
| 2007 | Steve Green |
---
FAI - DIPLOMA FOR OUTSTANDING AIRMANSHIP
1987
Gregory Robertson
1990
Alistair Atchinson & cabin staff from BA
1993
Martin Peckett
1997
Tim Barnby.
Tim Barnby is a Captain of Airbus A-340s for Virgin Atlantic Airways, and also the current British Aerobatic Champion. On arriving at London from Los Angeles the port main undercarriage failed to extend, and a series of manoeuvres failed to free it. Despite poor light, drizzle and a cross-wind, Tim achieved a successful emergency landing with no injuries to the 114 people on board. As well as his skilful handling, Tim calmly kept the passengers fully informed and so minimised the risk in a most professional manner.
2009
Germano Alvares Da Silva (Posthumously)
Germano Alvares Da Silva was a Brazilian-born BPA member. In May 2008 he was on board a Pilatus Porter at Toledo in Spain. Also on board were three tandem pairs, two camera flyers, a fun jumper and the pilot. Just prior to exiting at 12,800 feet, the aircraft stalled and started to spin, throwing those inside against the wall opposite the door preventing them from exiting, and then the left wing detached from the airframe. One tandem pair was ejected from the aircraft, and Germano helped some others safely out of the aircraft at a very low altitude, thereby saving their lives. But he was unable to extricate himself in time and was killed along with the pilot.
---
FAI - PAUL TISSANDIER DIPLOMA
1952
Capt. John Pritchard
1952
Alexis-Francis Houlberg
1952
Charles Grey
1953
No award
1954
Philip Wills
1954
Col R.L.Preston
1954
Dr Stanley Hooker
1954
D.A.Gordon
1955
W.R.Parkhouse
1955
Phillip Mayne
1955
Leonard Bridgman
1955
E.C.Bowyer
1956
T.H.Kerr
1956
N.G.Hill
1956
W.Goldsmith
1956
Capt K.J.G.Kellett
1957
Frederick Slingsby
1957
Peter Masefield
1957
Denis Lyons
1957
Kenneth Davies
1958
A.Thurburn
1958
B.A.G.Meads
1958
Maurice Imray
1958
Cdr. A.Goodfellow
1959
L.C.Nash
1959
R.E.Hardingham
1959
Harold Best-Devereux
1960
Charles-Maurice Newton
1960
Norman Jones
1960
Frank Irving
1961
Cedric Vernon
1961
Proctor Powell
1961
C.A. Nepean Bishop
1962
Sqd. Ldr. L.A.Jackson
1962
W.E.Castley
1962
John Blake
1963
J.O.H. Lobley
1963
Col. W.S.Caster
1963
F.E.Buckell
1964
Leslie Whicher
1964
Col. C.F.H. Gough
1964
A.Golding Barrett
1965
Dr. A.E. Slater
1965
Cecil Pashley
1965
Capt. E.S. Davis
1966
Gillian MacKay
1966
Colin Britland
1967
Allen H.Wheeler
1967
N.W. Kearon
1967
R. Crichley-Graham
1968
R.B.J.Pearse
1968
W.A.H. Kahn
1968
J.J. Dykes
1969
Anthony Smith
1969
Henry Nicholls
1969
Wing Cdr. O.V.Holmes
1970
Rex Smith
1970
Harold Robinson
1970
Rika Harwood
1971
Ronald Moulton
1971
Ronald Campbell
1971
Ray Bridgen
1972
Leonard Ashburner
1972
Rear-Admiral Nicholas Goodhart
1972
Peter Martin
1973
James Baring
1973
Norman Couling
1973
Andy Gough
1974
No award
1975
Timothy Godfrey
1975
Keith Mansell
1976
Roger Barrett
1976
John Large
1976
D. John Tanner
1977
Ann Lewis-Smith
1977
George Lynn
1978
John Hunter
1978
Henry Kremer
1978
Frederick Marsh
1979
Peter Franklin
1979
Mike Garrod
1979
Walter Neumark
1980
Sgt Scotty Milne
1980
John Blake
1980
Arthur Doughty
1981
Alec Jenkinson
1981
Doug Peacock
1982
John Laing
1982
Nigel Tasker
1982
Peter R. White
1983
Tom Bradbury
1983
Iona Radice
1983
Rodney Whittaker
1984
David Hamilton
1984
Peter Freebrey
1984
David Barker
1985
Ian Senior
1985
Tony Lloyd
1986
William Chesson
1986
William H. Bailey
1987
Grant Dawson
1987
Ray Kingdon
1988
Annette Carson
1988
William Scull
1988
Georgina Hamilton
1989
ChristopherWills
1989
J.W.R. Taylor
1989
Stephen Gray
1990
Bernard Kane
1991
No award
1992
Tony Lloyd
1993
No award
1994
Peter Bish.
Peter Bish was an original member of the Dante Balloon Group and a most welcome unofficial British ballooning representative in 22 countries, including Poland, the Czech and Slovak Republics, Russia and Hungary where his pioneer work led to the development of ballooning in that country.
1994
Angus Pinkerton.
Angus Pinkerton was head of the BHGA Training committee for over 4 years has made an outstanding contribution to flight safety in all its aspects. He played a key part in the successful amalgamation of hang gliding and paragliding in 1992 to form the British Hang Gliding and Paragliding Association.
1995
Derry Moore.
Derry Moore is chairman of the balloons and airships group of Europe Airsports, and for nearly twenty years has been the BBAC representative on the Royal Aero Club Parliamentary Committee, the BBAC Flying and Technical Committees and NATMAC. He became a balloon pilot in 1974, and later a Class 1 inspector for balloons and a BBAC approved instructor. He has recently been appointed a balloon instructor by the Irish Aviation Authority.
1996
Len Gabriels
Len Gabriels has made a valuable contribution to the development of hang gliding and microlight flying, via his company Skyhook. This was Britain's first commercial hang glider manufacturer, which started in 1973 and later produced the Pixie trike.
1996
Dr Peter Saundby
Peter Saundby has worked for many years of to bring about a more practical and scientific approach to the medical requirements for Flight Crew Licences and in particular for sport and recreational flying. He has been Medical Adviser to the BGA since 1967 also a UK delegate to the FAI Medical Commission since 1985 and medical coordinator for Europe Airsports.
1997
Rita Boyle
Rita Boyle has recently retired after acting as a balloon competition observer for nearly 20 years. This has included many British and European championships for both gas and hot-air balloons, and Five World Championships. She has also been an observer for several British and World record attempts and many Badge flights.
1997
Barbara Moreton
Barbara Moreton has been a balloon competition observer since 1983 at several British and international Championships. She has specialised in record events, being the UK senior observer for several very long distance flights. She is a reviewer for the FAI-CIA records committee and manager of the Badge flights system. Her biggest contribution has been as Western Region landowner relations officer, and instigator of the landowner relations training scheme.
1998
Steven Petter
Steve Petter has been a member of the Popular Flying Association Executive committee for 9 years, and Vice-Chairman and a Director of its operating company for 6 years. As well as a major role in the day-to-day management of PFA, his main contribution has been as overall Director of the PFA's annual amateur-built and vintage aircraft Rally, currently held at Cranfield. This is the largest aviation event in the World outside the USA, and attracts about 1700 visiting aircraft. It is accompanied by a large GA trade-show with around 300 exhibitors, and is the premier shop window for sport aviation in Europe. The continuing growth and success of this event owes much to Steve's skills.
1998
Brenda Howard.
Brenda Howard became involved with Ballooning as an interpreter at the 1983 World Championships in France. Since then she has officiated as a debriefer at nearly all British National, European and World Championships, and also at some overseas events, including the National Championships in Belgium, Austria, Italy and Spain. She was Assistant Director for the 1998 Baltic Cup, and Chief Debriefer for the 1998 European and 1999 World Balloon Championships.
1999
David Cole.
David Cole has made a major contribution to Microlight flying and Air Sports at the highest level for 20 years. He has been Chairman of the British Microlight Association, Chairman of the Royal Aero Club, President of the FAI Microlight Commission, President of the FAI Airsports Commission, and British Vice-President of FAI. His knowledge, experience and judgement have enabled him to provide effective leadership. He was also director of the two European Microlight Championships held in the UK, and played a key role in organising the major annual airsports exhibition at Telford.
1999
D.A.Gordon.

2000
Ally Odell.
Ally Odell has been involved in Ballooning since 1975 and flew in several national and international competitions. She has more recently become a well-respected official at international championships, including acting as event director.
2000
Noel Whittall.
Noel Whittall was one of the pioneers of Hang Gliding from 1973, initially flying a glider of his own design and instructing. He became chairman of the Dales Hang Gliding Club, and went on to serve on the committee of the British Hang Gliding Association for many years, including three years as Chairman, He has been the Secretary of the FAI-CIVL Hang-Gliding and Paragliding Commision for 12 years, and has been involved in revising their sporting code.
2001
William Morris
William Morris became a paragliding instructor in 1981, and was soon appointed to the BAPC Safety Training Committee. He was a regular contributor to the BAPC "Skywalker" magazine and, following the merger, to BHGA "Skywings". In 1987 he formed and became CFI of the Midflight Paragliding School. He has given long service to the BHPA in several senior positions. He is an instructor examiner, inspector of schools and president of the BHPA Accident Enquiry Board. He is also the BHPA Records Officer, coordinating national and FAI records for paragliding and hang gliding.
2002
Alan Cassidy.
Following service as a pilot in the RAF, Alan Cassidy became a full-time aerobatic pilot in 1991. He has been British Aerobatic Champion three times, and has been a regular member of the British team at international championships since 1995. He has been head of contest organisation for the BAeA since 1991. He is the current UK delegate to the FAI Aerobatic Commission (CIVA), where he serves on the Rules sub-committee and is Chairman of the Catalogue committee which has updated and computerised the Aresti notation for aerobatic manoeuvres. He has been a member of the International Jury at several FAI Championships.
2003
Barry Rolfe.
Since July 1975, Barry Rolfe has been Secretary of the Royal Aero Club, which role he has performed alongside his duties as Secretary of the British Gliding Association. He is due to retire from the BGA on 8 May 2004 and will then also relinquish his role as Secretary of the Club. Barry became Secretary at the time of the reorganisation of the RAeC when Philip Wills was Chairman. For nearly twenty-nine years Barry has been an able and amiable Secretary providing British Sporting Aviation generally and successive Royal Aero Club Chairmen and Council members in particular, with wise advice and efficient service. Barry will be much missed and will be a hard act to follow. We owe him our sincere thanks for a job well done and wish him a long and happy retirement.
2003
David Hastings.
David Hastings has made a major contribution to many aspects of aviation particularly in Norfolk. He gained a PPL in 1963, and went on to become a Director of the Norfolk & Norwich Aero Club. He worked on the Air League Youth Training Scheme. He served the Scout movement for 24 years and was Deputy Commissioner (Air) for Norfolk. He piloted many Air Experience Flights for the Scouts and Girls Venture Corps. For 33 years he was a Duty Officer with the Royal Observer Corps. For 23 years, he has been a Governor of the 2nd Air Division USAAF Memorial Trust, including serving as its Chairman. He has travelled widely in the USA giving talks to promote recreational flying. He represented private flyers on the Norwich Airport Consultative Committee for 5 years. He is a Governor of Wyndham College with special interest in the RAF section of its CCF unit. He is an Honorary Squadron Commander with the USAF at Mildenhall promoting links with the local community. In 1968 he formed the Norfolk Vintage Pilots Association, linking service and civilian pilots, which continues today.
2005
Brian Spreckley.
Brian Spreckley crowned an outstanding competition career by winning the World Gliding Championships in 1987, and has served the sport of gliding with great energy and dedication for over 25 years. He was BGA National Coach for several years and was responsible for a number of coaching initiatives in the UK and Europe. In 2001, he directed thevery successful World Gliding Championship at Mafeking in South Africa. As one of the founders of the highly successful British Team Coaching system, he remains very active as a leading coach and is currently the British Gliding Team Manager. His vision, leadership and ability to identify and develop talented pilots has been instrumental in the Team's unparalleled and ongoing success. He has represented the UK at the IGC for many years and now serves as a Vice President of the IGC Bureau.
2006
David Roberts.
David Roberts is a past Chairman of the British Gliding Association, and Vice-Chairman of the Royal Aero Club and Treasurer of Europe Air Sports. He has played a more significant role in defending British (and European) sports and recreational aviation against the advancing tide of regulation than any other individual. His quick grasp of the essential details and his broad understanding of recreational aviation in general, coupled with a persuasive presentation style, has on numerous occasions, caused regulators to stop and think again. The rules that govern our air sports activities will be far less burdensome thanks to his tireless, continuing and unstinting contribution
2008
Sheila Bailey.
Sheila Bailey has been actively involved in light aviation for over 20 years, serving on the Popular Flying Association Committee for several years. She has been a Royal Aero Club Council member since May 1998 and from 2000 to 2009 a superb Chairman of the RAeC Medals and Awards Committee. Sheila has distinguished herself by charging her duties with fairness, integrity and judgment.
2008
Barry Plumb.
Barry Plumb serves on the Executive Committee of the Light Aircraft Association and is Chairman of its Engineering sub-committee, responsible for the Association's engineering policy and liaising with the five full-time professional engineering staff. He has built two light aircraft, one self-designed, and led other restoration projects. Barry represents Europe Air Sports on the EASA working group on Permits to Fly and other restricted certification, and also maintenance management. Due to his unflagging efforts and commitment, Europe continues to allow recreational pilots to fly amateur-built and orphaned vintage and classic light aircraft under national airworthiness rules.
2010
Carr Withall
Carr Withall has a many years of experience both as a commercial pilot and in glider flying. He has led the British Gliding Association's airspace team for nearly 20 years. He has negotiated the protection of gliding interests in major changes of UK controlled airspace, and in the introduction of new technologies for airspace management. His objectivity is highly regarded by the CAA, and he has participated in several airspace working groups covering all aspects of general aviation. He has actively supported several gliding clubs in negotiations about local airspace issues.
---
FAI - HONORARY DIPLOMA FOR GROUPS
1995
Royal Air Force Museum.
The Royal Air Force Museum, Hendon, is the only UK national museum tasked solely with the care of the history of aviation. It was founded in the mid-1960s and opened to the public in 1971, and is recognised as one of the top five aviation museums in the world. In the 25 years of its existence, its Department of Research and Information Services has amassed the largest collection of aircraft and associated artefacts in the UK.
1996
Popular Flying Association.
The Popular Flying Association is the world's oldest homebuilt aircraft organisation. Founded in 1946, the PFA now has almost 9,000 members. It is responsible for overseeing the airworthiness of about 1,500 homebuilt and vintage aircraft and a further 1,000 projects under construction.
1998
RAF Cosford and RAF Museum, Cosford.
RAF Cosford is the RAF's main ground training school, and the museum is an outstation of the RAF museum at Hendon, with many military and civil aircraft on display. There is a close synergy between the two organisations. As well as their day-to-day work, they come together to organise an annual air show, which is attended by around 50,000 people and raises a substantial sum for charity.
1999
Air Britain.
Air Britain is a UK-based association covering all aspects of aviation history. It was founded in 1948 and has 4000 members. It works closely with sister organisations, museums and correspondents world-wide. Its wide range of journals and books cover both detailed historical research and recording of the current scene. Its branches organise regular meetings and tours, and it hosts a national fly-in. As well as catering for the serious aviation historian, its publications are a primary information source for young aviation enthusiasts, many of whom go on to careers in aviation or become recreational pilots in all branches of air sport.
2008
Royal Aero Club Trust.
The Royal Aero Club Trust has conserved and stabilised the Royal Aero Club's huge archive collection, comprising around 1,000 files of documents, photographs and other memorabilia including many famous historical persons. The collection of Royal Aero Club Aviators' Certificates, comprising over 28,000 records and 13,000 photographs of qualified pilots in 1910-1950, have been microfilmed and are now available on the website Ancestry.co.uk for genealogists and researchers. The Trust also promotes involvement in all air-sports by young people and awards bursaries to assist progression in their chosen air sport.
2010
Breitling (UK) Ltd
Breitling (UK) Ltd have been the major sponsor of the Royal Aero Club's Annual Awards events for many years. In particular their funding of the high-quality programme brochure has greatly enhanced the events and enabled extra copies to be produced for public relations purposes. They have also established the "President's Breitling Trophy" awarded to young people for outstanding achievement in aviation and air sport.
---
FAI - LILIENTHAL DIPLOMA
2007
Derek Piggott.
Derek Piggott has been an inspiration to glider pilots world-wide for over 55 years. He has made a major contribution to the development of gliding instruction. He has written several books and articles about gliding and made international lecture tours. He has evaluated and written handling notes for over 200 models of glider. He has flown a wide variety of one-offs, including the Cayley replica and the SUMPAC man-powered aircraft. He has also flown WW-1 replica aircraft in several cinema films. He has set a number of gliding records and won several Regional Competitions and the National Aerobatic Championships. In his mid-80's, he is still taking part in competitions in Britain and America, and writing and talking about gliding.
---
FAI - PIRAT GEHRIGER DIPLOMA
2001
Cedric Vernon.
Cedric Vernon started his career with Handley Page, working on the Halifax and Victor. From the early 1950's he became an airworthiness expert in the CAA. He has been a member of the London Gliding Club at Dunstable for over 50 years. He soon became a member of the BGA Technical committee and was involved in the formulation of BCAR Section E on Glider airworthiness. He joined the FAI OSTIV glider technical committee in the 1950's, and contributed to a range of specifications, from the Standard Class in 1958 to the recent World Class. He was secretary of the OSTIV Sailplane Development Panel, whose work has been the basis of the worldwide JAR-22 on glider airworthiness.
2004
Awarded to Gillian Bryce-Smith.
Gillian Bryce-Smith retired in 2004 following long and successful service as Editor of gliding magazines. She became Editor of "Sailplane & Gliding " in 1973, and it has grown from black-and-white A5 format to full-colour A4. Her professionalism, persuasion and journalistic coaching skills sustained a succession of high quality articles. She was over 60 years old when she retired from this, but then started a new joint UK/US venture "Motorgliding International", which has subsequently gone on-line as www.glidingmagazine.com. She has sustained a high standard provided the benchmark for gliding journals.
2007
Brian Spreckley & Keith Nicolson.
Brian Spreckley and Keith Nicolson have contributed significantly to international gliding by their joint work to develop the IGC Ranking List. Brian defined the requirement and Keith Nicolson created the List software as a project for his MSC Degree. They have both contributed to the ongoing development of the List and the rules for its management. It has now been embodied in a new Annex in the FAI Sporting Code for Gliding. The List now includes some 2,500 pilots, a 28% increase in the past year.
---
FAI - MONTGOLFIER BALLOONING DIPLOMA
1997
David Bareford.
David Bareford has been competing in hot-air balloons for 20 years. He has been British Champion five times, has been in the top ten in the World Championships consistently since 1977, and has a long record of successes in international competitions around the World. In 1997, he won the British, European and World Championships. His is Britain's most successful balloon competitor.
2007
David Hempleman-Adams.
David Hempleman-Adams flew across the Atlantic in a small gas balloon in July 2007. He took off from St Johns, Newfoundland and eventually, four days later, landed near Dijon in France. He flew in a balloon of only 1000 cu.m. This is by far the smallest balloon that has ever been used for an Atlantic crossing. David made the flight solo. The flight achieved World Records of 4227 km distance and 89 hours 20 minutes duration in class AA-6, also breaking the records for the next three larger classes.
---
FAI - GOLD AIRSHIP MEDAL
2004
David Hempleman-Adams.
David Hempleman-Adams broke the World Altitude Record for hot-air airships in December 2004, for which he has also been awarded the RAeC Britannia Trophy. This completed the set, as he had also previously broken the speed, distance and duration World Records for hot-air airships. He currently holds 33 FAI World Records for Balloons and Airships plus six for fixed-wing flying, and has made several notable long-distance balloon flights. He has flown over the Andes, made a flight from Spitzbergen to within a degree of the North Pole, and flown a balloon with an open basket across the Atlantic.
---
FAI - SANTOS DUMONT AIRSHIP GOLD MEDAL
1996
Tom Sage.
Tom Sage was a founder member of the British Balloon and Airship Club, and has completed in four World and one European Championships. He also carried out most of time development work on the current range of Cameron DP type hot-air airships.
---
FAI - ROTORCRAFT GOLD MEDAL
1995
Wing Commander Kenneth Wallis.
Ken Wallis has made an exceptional contribution to the development of rotary winged aircraft and especially the autogyro. He is currently the holder of all ten world records for autogyros, he started experimenting with autogyros in 1958 and his prototype WA-116 first flew in 1961. He designed, built, test flew and demonstrated all his 18 creations, continuing to display them at air-shows until 1993.
---
FAI - MIGNET DIPLOMA
1993
Ivan Shaw for the Europa.
The Europa is a design for a two-seat composite aircraft by Ivan Shaw. After testing, it is now being provided as a kit for amateur construction. It has proved very successful and many kits have been sold in the U.K. and worldwide.
---
FAI - PHOENIX DIPLOMA FOR GROUPS
1996
Shuttleworth Trust Sea Hurricane.
The Shuttleworth Trust Sea Hurricane Restoration Crew rebuilt the only surviving Hawker Sea Hurricane 1B. The aircraft was built in 1941 and its restoration took the team, led by Steve McManus, ten years. It now has a CAA Permit to Fly and has appeared at several displays.
---
FAI - ANN WELCH DIPLOMA FOR MICROLIGHTS
2008
Mark Jackson & Eve Jackson.
Mark Jackson and Eve Jackson made a flight in a microlight over Mount Kilimanjaro to a height of 24,258 feet in an open cockpit trike. On the same flight they also broke the World Record for the time to climb to 6,000 metres and the British record for the time to climb to 3,000 metres.
---
FAI - ANTONOV AEROMODELLING DIPLOMA
1988
Sqdn. Ldr. N. Astley-Cooper.
1997
Jack North.
Jack North had been involved in model flying since the 1930's and represented Britain at World Championships in all three free-flight classes. He published the results of his research into rubber propulsion, which led to big improvements in performance and safety in model flying. He was also responsible for several technical innovations in other areas of the sport.
2005
Bernard Hunt.
Bernard Hunt has made a unique contribution to designing and flying "microfilm" models and changed the way these aeroplanes are constructed and flown worldwide. He pioneered research into the theory and practice of many aspects of indoor flying. He is best known for the development of unbraced class F1D models, but also made important contributions to the testing of the mechanical properties of balsa wood, the measurement of energy storage of rubber, the use of computer programmes to predict flight performance, and the design of variable pitch propellers. In 1980 he was the first person to use variable pitch propellers successfully at World Championship level. He has left a legacy of widely-used model design features and test methods that are still current today. Probably his most familiar "invention" is that of the unbraced F1D duration model, which revolutionised the sport. He led the initial development and refinement of a practical adjustable-pitch propeller mechanism and this in turn fuelled further design advances in other parts of the world. Many F1D modellers currently use hubs based on one of his design drawings. His innovations gave him great success in many different indoor classes, both in Great Britain and overseas and he was a strong competitor in five F1D World Championships. He made his ideas, theories, concepts and designs freely available to others by publishing many plans and articles.
2007
Paul Beard.
Paul Beard was responsible for developing the 2.4 GHz Spektrum radio control system for aero-modellers. The project arose as a spin-off from his work in 1995 for a radio system for remote checking of hire-cars. It took seven years of work and investment to achieve a viable prototype. The system was then developed in partnership with Horizon Hobby in the USA, initially for radio-controlled model cars and boats, and then as a 7-channel system for aero-modellers. It has provided a major improvement in reliability and safety over earlier systems and has been adopted world-wide.
---
FAI - TURPOLEV AEROMODELLING DIPLOMA
1995
Peter Halman.
In 1994, Peter Halman was both British Champion and World Champion in control-line speed model flying, and has been at the forefront of this class for 30 years. He has been generous in giving advice and material assistance to competitors of all nationalities, and has served many times on the BMFA's control-line technical committee, as well as organising and running national competitions.
---
FAI - AEROMODELLING GOLD MEDAL
1997
Ian Kaynes.
Ian Kaynes was the UK representative on FAI-CIAM for many years, and has chaired its Free Flight sub-committee since 1978. In 1987, he initiated the Free Flight World Cup series, which has greatly increased participation in international competitions and has been adopted by the other Model flying disciplines. He has been Competition Director at 12 European and World Championships since 1979.
---
FAI - ALPHONSE PENAUD MODELLING DIPLOMA
2008
Peter Halman.
Peter Halman was F2A (Control Line Speed) National Champion consecutively for three years, 1979-81, and then each year during 1986-97, and was also National Champion five times, making 19 times in total. Peter has nine individual World and European Championship medals, including two Golds and five Silvers. Peter was on the British Team that has won the World and European Championships for the last 12 consecutive years (1997-2008) with a total of 20 World and European Championship team medals over 22 years (1987-2008). Peter also holds the current World Record in class 132 F2 Open Control Line Speed.
---
FAI - YOUNG ARTISTS' COMPETITION
1996
Jennifer Murray.
Jennifer Murray was the winner of the age 14-17 group, with a painting on the theme of "Airfield"
1998
Rochelle O'Neill.
Rochelle O'Niell won the FAI Young Artists Competition in the youngest (6 - 9) age group, with a painting on the theme of Air Sports in the Olympics.
---