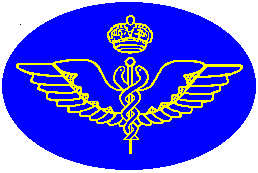 Royal Aero Club Newsletter
Spring 2005
---
AWARDS
RAeC Awards Ceremony
The Awards Ceremony took place on 3 February at the National Army Museum, when our President, His Royal Highness The Duke of York, presented awards to successful pilots and others who had served the cause of British aviation during 2004. Full details of the ceremony and the awards made have already been circulated in the programme which was sponsored for us by Breitling.
FAI Awards
Two of the FAI Commissions have decided their awards for this year. Congratulations to:
Laurie Barr - the organiser of four indoor duration, F1D World Championships at Cardington, awarded the FAI Aeromodelling Gold medal by the International Aeromodelling Commission (CIAM).
Stuart Lodge - a scientist who has worked for over 20 years to promote Space aeromodelling, awarded the Frank Ehling Diploma by CIAM.
Gillian Bryce-Smith - the former editor of Sailplane and Gliding and of Gliding and Motorgliding International, awarded the Pirat Gehringer Award by the International Gliding Commission (IGC).
Award Nominations
The FAI, on behalf of The Trustees of the Prince Alvaro de Orleans Borbon Fund for Technical Advances in the field of Sporting Aviation (including Simulated Flying) invite nominations from any source for high-calibre candidates who may be suitable recipients of prizes from the Fund. Nominations must be made by 30 June 2005. For further details, download ftp://www.fai.org/awards/aob_regs.pdf or contact the RAeC office.
The Guild of Air Pilots and Air Navigators administers a range of Trophies and Awards, offered each year for contributions to aviation, distinguished achievement and meritorious service or conduct in an aviation context. More information at http://www.gapan.org/committees/trophies/nominations.htm. Nominations must be made to the GAPAN office by 31 May.

MEMBERSHIP MATTERS
Access to the Royal Aeronautical Society
We are delighted to announce that we have re-established the link with the Royal Aeronautical Society, which allows Individual Members of the Royal Aero Club to use the RAeS facilities at their London premises, on the same terms as the RAeS's own members. This gives access to the RAeS library and other public rooms, on production of your RAeC membership card. The Royal Aeronautical Society building is at 4 Hamilton Place, London, W1J 7BQ (close to Hyde Park Corner).
Corporate Members of the Royal Aero Club
Air Displays International
H R Jennings & Co Ltd
Just Flight Ltd
Key Publishing Ltd
PC Pilot Ltd
Pooley's Flight Equipment Ltd
Associate Members of the Royal Aero Club
British Women Pilots Association
Guild of Aviation Artists
Royal Aero Club Trust
Royal Air Force Museum
PPL/IR Europe
Sherwood Flying Club
The Tiger Club
Flying Farmers Association
Human Powered Aircraft Group
Historic Aircraft Association
Individual Members
We have lost touch with two members. If anyone knows the whereabouts of F. M. Usher-Smith or F.B. Miles, we would be very glad to know their up-to-date addresses.

SCHOLARSHIPS AND BURSARIES
A number of scholarships are available. If you know of anyone who may be eligible and could benefit from one of these, please encourage them to apply
Royal Aero Club Trust Bursaries
The Royal Aero Club Trust, as part of its Flying for Youth programme, administers a Bursary Scheme for young people aged 16-21 years. Every year it awards a number of bursaries, each of up to £500. The scheme is divided into two categories:
(1) Flying Bursaries for those wishing to advance from one recognised level of air sport to the next higher level and wishing to upgrade their existing qualifications;
(2) FlightSim Bursaries for Computer Flight Simulation enthusiasts wishing to gain practical experience of flying or an air sport.
Applications for 2005 bursaries must be made by 31 May 2005. See http://www.royalaeroclubtrust.org/bursaries.htm for further details.
Air League Scholarships
These awards, for applicants over 17 and under 26, offer 12 or 15 hours flying instruction towards an NPPL. Closing date for applications is 30 June 2005.
Diana Britten Aerobatics Award
This annual Aerobatic Scholarship, open to women pilots only, is for pilots interested in competition aerobatics. Applications for 2005 should be made by 10 June. See http://www.dianabritten.com/scholarship.html for more details.

EUROPEAN AND INTERNATIONAL ISSUES
Eurocontrol's General and Business Aviation Day
This event, held on 8 April 2005 at Eurocontrol Headquarters in Brussels, was attended by representatives of Europe Air Sports. The President of Europe Air Sports, Sir John Allison, gave a short but important address to an audience of the leading European aviation regulators and officials in the European Union, as well as many from the aviation community of pilots, operators, manufacturers and aviation service providers. Sir John outlined the key issues affecting the future of air sports and recreational aviation in Europe and set out several challenges to the legislators:
that the guiding principle for the transfer of governance from national authorities to a European authority should be that "what is permitted and conducted safely today in individual countries, should continue to be permitted under the new regime - at least at national level."
that the non-commercial operation of all aircraft of less than 2730kg MTOW, should be categorised as sporting and recreational aviation.
that the broad regulatory policy framework for sporting and recreational flying should be set at the European level, but that operational and technical authority should be delegated to national level, including to individual sports and management bodies.
That airspace regulation is crucially important to sporting and recreational pilots and that it will be essential for the preservation of our activities that the top of the lower airspace should be set as high as possible and that the default category for the lower airspace should be G.
On medical standards, that an intellectual argument for a standard for the recreational pilot which is more stringent than for a normal driving licence cannot be perceived.
On the Single European Sky, the unfairness of the charging issue, because the sporting or recreational pilot has no need of the airspace structure or air traffic management system.
Airworthiness
One of the main controversial items for sports aviation lies in the Regulation for Continued Airworthiness (2042/2003 Part-M). Regulation of non-commercial activities was deferred until a Regulatory Impact Assessment had been carried out. This process was contracted to Air Eurosafe and is still going on. An EASA Opinion is expected in the near future (mid 2005). Europe Air Sports (EAS), in particular the European Gliding Union specialists, has been very active in lobbying.
Another issue of importance is the proposed regulation for fees and charges that EASA could levy for services and products. This would impact the glider manufacturing industry and (major) modifications in particular. The final directive 488-2005 has been concluded in March 2005 and will be reviewed annually.
Aviation Insurance
Most members will by now be aware of the EU regulation 785/2004 on insurance requirements for air carriers and aircraft operators, which takes effect from 30 April 2005. Owners and operators of all GA aircraft, (including fixed wing, helicopters, gliders, balloons and model aircraft with a MTOM over 20kg) must hold insurance cover at the new levels, and provide evidence of compliance. Members are advised to check that their insurance has been amended to cover the new requirements. The introduction of the new regulation involved a substantial lobbying effort by EAS officers, resulting in a final version which is more acceptable than the first draft.
Ait Traffic Control - SESAME
The latest development on the European front is SESAME (Single European Skies Air Traffic Management), which is being considered for reasons stated to include economic, current complexity and constraints and the need to increase ATM capacity. SESAME is being developed in two main phases. The first, a Definition Phase, will run 2005-2007 and aims to deliver a European ATM Master Plan for 2007-2020. The Implementation Phase will follow in 2007 –2020. EAS will monitor this project and be able to intervene through the Industry and Consultation Body, which has been created "to provide advice to the EC on technical aspects of SES and advice of Strategic nature to implementation of future ATMs".
The European Commission is preparing a Communication to European Parliament and Council, which will present the rationale for SESAME, give a preliminary impact assessment and recommend the most appropriate governance structure.
More on Airspace and Air Navigation Services
There have been discussions in workshops on the level for the Lower Airspace and an ENPRM (European Notice of Proposed Rule Making) was issued. Europe Air Sports (EAS) has submitted a response. Another important issue has been the proposed implementing rule for a common charging scheme for Air Navigation Services. This triggered wide protests, including from representatives of the GA community in this country, many of whom have joined together to form the GA Alliance. An ENPRM has been issued.
Driving licences and Trailers
In 2004 an EC Directive on driving licences and trailer weights was developed, with potential impact for air sports, which required significant lobbying efforts. The final version, which was produced recently, included acceptable weight limits for trailers. The final draft has been sent to the European Council, and EAS is optimistic that airsports' requirements will be taken into account in the final legislation.

FAI NEWS
Pierre Portman of France (former President of Europe Air Sports) is the new FAI President.
2005 is the FAI's Centenary year, with a number of events and activities under way to commemorate this. See http://www.fai.org for more information.

CAA NEWS
LASORS
The 2005 edition of LASORS (Licensing; Administration; Standardisation; Operating Requirements and Safety) is now available from the CAA. It features essential safety information aimed specifically at the General Aviation community. LASORS 2005 includes information from source documents such as the Air Navigation Order and JAR-FCL; details of pilot licensing requirements (including NPPL); a full set of CAA Safety Sense Leaflets and guidance on differences training. LASORS 2005 costs £11.50 from bookshops or the Stationery Office, or you can download it free from the CAA web site http://www.caa.co.uk/publications/publicationdetails.asp?id=1591
Emergency or precautionary diversion landings
Charles Strasser's campaign on behalf of AOPA to get all airfields to accept CAA CAP 667 9.2(c) recommendation and not to charge GA aircraft making an emergency or precautionary diversion landing there, is still growing. As at the 31 March 2005 there is a total of 191 airfields (including all 36 military MOD airfields) which have agreed this potentially life saving measure. This concession applies to genuine emergencies and diversions to airfields other than the destination airport.

EVENTS AND SHOWS
4th FAI Junior World Gliding Championships
This event will be held at Husbands Bosworth Airfield, home of The Soaring Centre, in Leicestershire, between 6 and 20 August 2005. Visitors and spectators will be welcome (but please note there will be no provision for arrivals by air!)
International Bücker Fly-In
This event, for Bückers of any kind, as well as other old-timer biplanes, will be held on 18/19 June 2005 at Airport Grenchen LSZG, Switzerland. See http://www.bueckerfliegen.ch for details

---