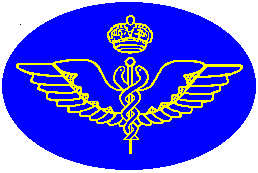 Royal Aero Club Newsletter
Summer 2005
---
BRITISH PILOTS AT INTERNATIONAL COMPETITIONS
Congratulations to:
Members of the British F2 Aeromodelling team,
who took 4 medals and two team Gold medals at their European Championships in Hungary. Winners were:
Peter Halman - F2A (Speed) European Champion and gold medal winner
Paul Eisner - F2A (Speed) Bronze medal winner
Team Gold was won by the UK F2A (Speed) team (Peter Halman, Paul Eisner, Dick McGladdery) for the 11th Year in succession.
Mike Whillance - F2D (Combat) European Champion and gold medal winner
Mervyn Jones - F2D (Combat) Bronze medal
The UK F2D (Combat) Team (Mervyn Jones, Mike Whillance, Dave Riley - pilots & Peter Grange & Graham Ives - pitmen) also took Gold
Members of the British Gliding team,
who have also taken 4 medals at the European Championships, which took place at two sites in Finland and Slovakia. Winners were:
Pete Harvey - Gold medal, Open Class
Russell Cheetham - Silver medal, Open Class
Andy Davis - Silver medal, Standard Class
Leigh Hood - Bronze medal, 15 metre Class
The first day of the Open Class featured a 1012 km race, the longest ever held in a gliding competition.
Congratulations also to:
Bruce Goldsmith, who currently heads the paragliding section of the CIVL World Pilot Ranking System
John Cuthbert, who currently leads the Aeromodelling F1C 2005 Free Flight World Cup
NEW BRITISH WORLD RECORD HOLDERS
Congratulations to:
David Hempleman-Adams, who flew his Boland Rover A-2 Hot-air airship to an Altitude of 6,614 metres, breaking eight records in the process. The flight took place on 13 December 2004 at Rosedale in Canada.
John de Frayssinet, who set a new record for the course from Lands End to John O'Groats, of 333.18 km/h. The flight was carried out on 12 May 2005 in a Homebuilt Pilotfriend Glasair RG1, powered by a Lycoming IO-360, 200 hp.
HONOURS AND AWARDS
Further congratulations to
Andy Davis, member of the British gliding team, who was awarded the MBE in the Queen's Birthday Honours, for services to gliding, in particular as a competitor and coach to the British team.
Neil Goudie, who was awarded the Tiger Moth trophy for winning the CAA General Aviation Safety Award for 2004. Neil was taking part in a gliding competition in August 2004 when he saw a competitor's wreckage in a field. The pilot was seriously injured. Neil was nominated for his actions in arranging for an emergency call to be made and then landing in the field himself to give first aid, using his telephone to obtain guidance from a doctor friend, until an air ambulance arrived.

(Anyone can nominate or be nominated for such an award, so if you know of anyone involved in general aviation who you think has shown exceptional skill or airmanship in getting themselves, or better still someone else, out of trouble, the 2005 Board would very much like to hear about it. Nominations may be made on a form on the CAA's web site, by writing to Safety Promotion at the General Aviation Department, Aviation House 1W, Gatwick Airport South, RH6 0YR, or by email to david.cockburn@srg.caa.co.uk.

INTERNATIONAL AND EUROPEAN ISSUES
FAI Centenary Book
High Flyers, a book specially commissioned by the FAI to celebrate their centenary, is now available. The 244 page book, written by Pierre Morath, a historian specializing in the history of sport, traces the history of air sports and the Fédération Aéronautique Internationale. More details on the FAI web site at http://www.fai.org/centenary/highflyers.
Charging Proposals
The proposed rules for charging for Air Navigation Services have been reviewed, with the latest regulation stating that member states shall exempt flights by aircraft of under 2 tons. The UK Department for Transport has indicated that they are happy to adopt the regulation, so there is room for cautious optimism. The result was no doubt partly brought about by the formal lobbying undertaken by a number of groups representing GA and also by a huge volume of individual letters from GA pilots.
EVENTS AND SHOWS
The Sport and Leisure Aviation Show, "SPLASH" is the new title for the International Air-sports Exhibition (IAE), a show that was held very successfully a number of years at Telford and jointly organised by the British Microlight Aircraft Association (BMAA), and the British Hang Gliding and Paragliding Association (BHPA). The Show will take place at the NEC on November 26th & 27th and is sponsored by Today's Pilot.
A selection of other events over the next couple of months include:
Shuttleworth Pageant displays at Old Warden on 7 Aug and 4 Sept; Evening displays on 20 Aug and 24 Sept. PPR; Details on 01767 626200/627288.
Bristol International Balloon Fiesta at Ashton Court, 11 - 14 Aug. 0117-953-5884
WW2 Vintage Airshow at Woodchurch, Kent, on 7 August. 01233-860240
FAI Junior World Gliding Championships at Husbands Bosworth, 6 - 20 August. Spectators welcome (arrivals by road only).
Wallis Days Gyro Show and Fly-in at Shipdham Airfield, Norfolk on 13 - 14 Aug. The annual autogyro fly-in and airshow offers the chance to view Wing Commander Wallis's collection of autogyros, take an introductory flight and attend a Saturday evening lecture and BBQ. Flights in gliders and other aircraft including a Yak and a Stearman will also be available. Details on 01493 332794.
Biggin Hill Air Fair, on 3 - 4 Sept, will celebrate the Battle of Britain at this famous World War II RAF fighter station. The weekend will also celebrate the end of the war in Europe and the Far East with a VE & VJ gathering of veterans and period aircraft. There will be a varied selection of aircraft, with a mix of historic warbirds, modern jet fighters, the "heavies", civilian aerobatic aircraft, military helicopters and a number of static aircraft displayed on the ground. There is entertainment for all the family with bouncy castles and a funfair plus many stands, craft stalls and shopping tents.
For other events during the summer, visit the RAeC website, www.royalaeroclub.org
CAA and SAFETY
The CAA is preparing to undertake a Strategic Review of General Aviation over the next 12 months and also a review of the CAA's approach to the regulation of GA. The reviews will be closely coordinated and the working groups carrying them out include places for representatives of sporting and recreational aviation. Royal Aero Club members are represented with several places in the 17-strong team.
CAA Charges are also under review, with initial proposals for some major increases to licence fees for pilots, annual certificates and aerodromes. These proposals will cover the period 1 Jan 2006 to 31 March 2007. Further details are on the CAA website at www.caa.co.uk/charges and the consultation will last until 5 September. RAeC member organizations are involved in negotiating and fighting these charges on behalf of GA pilots.
Private pilots are being advised to take care during the airshow season after a number of prosecutions for airspace infringements which endangered the Red Arrows or forced them to abandon their show. Substantial fines can result if the pilot is traced following such an incident. Take care to check the NOTAMs and the Red Arrows display schedule on their website at www.raf.mod.uk/reds/dates.html or on 0500 354802.
GASIL. The latest (June 2005) edition of GASIL is now available on the CAA web site - http://www.caa.co.uk/docs/33/SRG_GAD_GASIL%202%20OF%202005.PDF
GPS Jamming Trials are due to take place in Wales from 30 Aug to 16 Sept, and may affect reception over a considerable area. An AIC will be issued giving more details and pilots who intend using a GPS receiver during that period are advised to consult that AIC, which will be available on the AIS web site, http://www.ais.org.uk
Changes to Rule 5, the Low Flying Rule, have been announced, to make UK rules easier to understand and more consistent with international rules. Flight is now permitted to within 1,000 ft above the highest fixed object over congested areas, but you are still required to be able to glide clear and land without endangering people or property. Pilots may now land and take off at an organized open-air assembly without applying to the CAA, but the flight must be carried out in accordance with procedures notified by the CAA and with permission from the event organiser.
Mode S: the CAA's Directorate of Airspace Policy has introduced an e-mail enquiry address specifically to answer questions about Mode S transponders. The address is mode.s@dap.caa.co.uk
CAA Safety Evenings are confirmed at the following venues:
| | | | | |
| --- | --- | --- | --- | --- |
| Date | Area/Airfield | Location | Organiser | Phone |
| 29/09/2005 | Seething | Clubhouse | Steven Pavey | 01508 550453 |
| 03/10/2005 | Sherburn in Elmet | Clubhouse | John Cross CFI | 01977 682674 |
| 17/10/2005 | Teesside | Clubhouse TBC | Lee Scott | 01325 332855 |
| 08/11/2005 | Gloucestershire | TBC | Harry Hopkins | 01242 260242 |
| 28/11/2005 | Yeovilton | FAA Museum | Michael Ryan | 07785 294108 |
| 29/11/2005 | Cardiff | TBC | John Davies | 01446 710000 |
| 08/12/2005 | Fairoaks | TBC | Alistair Wang | 01276 858075 |
| 12/01/2006 | Elstree | Elstree Flying Club | Mike Grant | TBC |
| 27/02/2006 | Halton | Kermode Hall TBC | Sarah Purchase | 07739 027779 |
| 02/03/2006 | Humberside | TBC | Mel Stewart | 01652 688833 |
If any club would like to host an event, please contact the CAA on 01293 573225 or email david.cockburn@srg.caa.co.uk.
GASCo has launched a take-off and landing performance calculator, in response to the significant number of take-off accidents occurring within GA. The calculator is available free from the GASCo website at www.gasco.org.uk.
Weather Seminar. The Royal Meteorological Society and GASCo are holding a safety seminar - Whether to Fly - at Kidlington on Saturday 8th October. The keynote speaker is Helen Young from the BBC and subjects to be covered include Met Hazards in Aviation and Met Services for Aviators. Tickets are £20 and more information can be obtained from GASCo - http://www.gasco.org.uk
MEMBERSHIP MATTERS
Individual Members
We have lost touch with Mr. M. Moran, who is an Individual member of RAeC. If anyone knows his whereabouts, we would be very glad to know his up-to-date address.
Royal Aero Club Trust
The Trust is now registered with the Inland Revenue, so that you can if you wish nominate the Trust to receive any tax repayment arising out of your completion of your Self Assessment Tax Return. Quote reference XAQ30XG if you wish to benefit the Trust in this way.
GENERAL INTEREST
The Assault Glider Project, based at Shawbury in Shropshire, is a memorial to the troops and civilians who designed, built, flew and went into battle in assault gliders during the Second World War. A team of about 30 is building a Horsa glider as a memorial to the airborne forces who were based in the Midlands. A Waco glider is also being refurbished. The team is always pleased to receive offers of practical help, either skilled or unskilled, and of financial support. See the website at www.assaultgliderproject.co.uk for further details.
The Battle of Britain Exhibition will take place at the Cass Sculpture Foundation's London gallery, from 1 September to 29 October. The Battle of Britain Monument will be unveiled on the Thames embankment on 18 September.

---