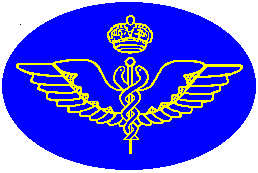 Royal Aero Club Newsletter
Autumn 2005
---
Newsletter edited by Diana King. Please send items for future Newsletters to Radford Barn, Radford Semele, Leamington Spa, Warwickshire, CV31 1UT or to secretary@royalaeroclub.org.
THE 2005 RAeC AWARDS
Nominations for Medals and Awards for 2005 are now invited. Please see the attached papers, which give full details of all the Royal Aero Club and FAI Awards. Member organisations and individual members are entitled to submit nominations. If you would like to make a nomination, please do so on the standard form and send it to the Secretary by 14th November 2005.
BRITISH PILOTS AT INTERNATIONAL COMPETITIONS
A large number of pilots represented Great Britain in world and other championships this year. We have had success in several different airsports:
At the World Microlight Championships held at Levroux in France:
Paul & Dawn Dewhurst won the dual 3-axis gold medal. Paul has previously won gold medals in each of the four classic microlight classes, but this was the first Gold for his wife Dawn.
Rob Grimwood & Chris Saysell won the dual weightshift gold medal.
David Broom won the solo 3-axis silver medal.
Simon Baker & Anita Holmes won the dual weightshift bronze.
Congratulations to the British Team, who also won the Team Bronze medal.
Gliding Championships
Congratulations to members of the British Gliding team, who have taken five medals in World Championships this summer. The Women's World Gliding Championships took place at Klix in Germany and the Junior World Gliding Championships were hosted at Husbands Bosworth in the UK. Winners were:
Gill Spreckley Silver medal, Standard class
Sarah Kelman Bronze medal, Standard class
Mark Parker Gold medal, Standard class
Jon Meyer Silver medal, Standard class
Andy May Bronze medal, Standard class
The British Junior Team also took third place in the team competition
The World Ladies Helicopter Championship in August,
Well done to the winners: Caroline Gough-Cooper and Imogen Asker
The World Paragliding Accuracy Championships
was held in Serbia in August. It brought more success for a British team, with Andy Shaw taking the Bronze medal and the Great Britain Team the Silver medal in the team event.
Congratulations to all!
FAI NEWS
FAI Centenary
The FAI celebrates its Centenary on 14 October, exactly 100 years after the foundation of the FAI. Some of greatest living aviators, including Buzz Aldrin, Steve Fossett and Bertrand Piccard will attend a "High Flyers' Night" at the Senate in Paris.
During the last weekend in August, the skies above Lausanne were transformed into a showcase for sporting aviation, when thousands of people turned out for the FAI Centenary Air Show. Jean-Louis Monnet's World Grand Prix of Aviation was the centre-piece of a show including hot-air balloons and model aircraft, war-birds and other vintage aircraft, as well as displays by the outstanding Swiss Air Force teams.
The Royal Air Force Museum has been awarded FAI Approved Museum status.
SCHOLARSHIPS AND BURSARIES
There are a number of opportunities currently available. If you know of anyone who may be eligible and could benefit from one of these, please encourage them to apply.
Royal Aero Club Trust Bursaries
The Royal Aero Club Trust, as part of its Flying for Youth programme, administers a Bursary Scheme for young people aged 16-21 years. Every year it awards a number of bursaries, each of up to £500. The scheme is divided into two categories:
(1) Flying Bursaries for those wishing to advance from one recognised level of air sport to the next higher level and wishing to upgrade their existing qualifications;
(2) FlightSim Bursaries for Computer Flight Simulation enthusiasts wishing to gain practical experience of flying or an air sport.
The scheme and the bursaries comprise all types of air sports and aviation-related activities including: paragliding, gliding, hang-gliding, parachuting, microlight aircraft, helicopter, fixed wing aircraft and the designing, building and flying model aeroplanes.
Applications for 2006 bursaries must be made by 31 December 2005. See http://www.royalaeroclubtrust.org/bursaries.htm for further details.
British Women Pilots' Association
The BWPA has obtained over 50 free trial lessons for women, as part of their campaign to get more women into flying. Flying training organisations nationwide have agreed to provide free lessons in fixed wing aircraft, helicopters, microlights and gliders. Women over 18 are eligible to enter the national competition for one of the lessons. Go to http://www.bwpa.co.uk for further details and an entry form.
EUROPEAN ISSUES
News from Europe Air Sports on the redesign of European airspace is that the restructuring of upper-airspace has been decided. Lower airspace issues finally resulted in a decision of Eurocontrol to recommend not to define a common Lower Airspace Level for the member States, but to leave regulation to the National Authorities. Another issue of great concern was the regulation for charging air navigation services where an intended coverage of VFR traffic would have affected the GA community. The issue is suspended at European level, following pressure from EAS, but National regulators may still impose unsatisfactory rules.
EAS's main effort is directed at Notices of Proposed Amendment (NPA's). The NPA referring to the extension of EASA's scope to operations and licensing has reached a successful point, with the EASA Opinion limiting requirements in the regulation for GA to a generalized nature. The NPA for Maintenance Part-M for non-complex, non- commercial aircraft is now in consultation and a joint EAS/EASA special Workshop will take place on 4/5 November. EAS has also filed a request with the Commission to change Annex II (exemptions of the main Regulation) which defines the scope of EASA. This concerns certain categories of gliders, microlights and historical aircraft.
The EAS website has been upgraded and provides extensive information. The site is at: http://www.europe-airsports.fai.org.
CAA
Publications subscription service
The CAA operates an internet based service, through which you can subscribe (free of charge) to receive notification of new publications. You can select the categories of publications which interest you. Further information at
http://www.caa.co.uk/application.aspx?categoryid=33&pagetype=65&applicationid=11&mode=sub.
CAA Safety Evenings are confirmed at the following venues:
| | | | | |
| --- | --- | --- | --- | --- |
| Date | Area/Airfield | Location | Organiser | Phone |
| 18 Oct 05 | Dundee | TBC | George Leckie | 01382 644372 |
| 19 Oct 05 | Wick | Portland Arms Lybster | Andrew Bruce | 01955 602201 |
| 1 Nov 05 | Old Sarum | Clubhouse | Megan Thornton | 01722 322525 |
| 7 Nov 05 | Henlow | Theatre | Joe Wright | 01462 851936 |
| 30 Nov 05 | Haverfordwest | TBC | Gwyndaff Willia | 01437 760822 |
| 5 Dec 05 | Peterborough Sibson | Para Club Restaurant | Lucy Kimbell | 01832 280289 |
| 7 Dec 05 | Southend | TBC | Philip Nasskau | 01702 546420 |
| 12 Dec 05 | Retford (Gamston) | TBC | John Walker | 01777 838521 |
| 13 Dec 05 | Wellesbourne | Touchdown Inn | Mike Littler | 01789 842000 |
| 26 Jan 05 | Tatenhill | TBC | Angus Stewart | TBC |
| 1 Feb 06 | Lasham | Clubhouse | Gordon MacDonald | TBC |
| 9 Feb 06 | Nottingham Tollerton | Truman Clubhouse | Simon Smith | 01159 815050 |
| 1 Mar 06 | White Waltham | West London Aero Club | David Coe | 01628 823272 |
| 8 Mar 06 | Denham | TBC | Neil Jeffers | TBC |
| 22 Mar 06 | Perranporth | Clubhouse | Peter Rassmuss | 01872 552266 |
| 5 Apr 06 | Fishburn | TBC | Richard Pybus | 0191 383 2948 |
See also the last RAeC Newsletter for additional venues. Further information at http://www.caa.co.uk/default.aspx?categoryid=224&pagetype=69
NOTAM Format Change.
In response to demands from the GA Community and following a recommendation from the CAA, a significant change is due to take place to all pre-flight information bulletins (PIB) produced by the AIS web site. This change will take place during autumn 2005. All NOTAM within a brief will contain an additional line of text. This text is called the NOTAM Code or Q Line and contains a comprehensive description of information contained within the NOTAM. Details of the changes can be found at http://www.ais.org.uk/aes/en/qline.pdf
Safetycom
The CAA is looking for feedback on how well Safetycom – the radio frequency for use at aerodromes with no assigned frequency - is working. The frequency was set up 12 months ago and the CAA is hoping to hear from pilots who have used it, to let them know what their opinion of it is. Please contact Gill Galway at the General Aviation Department on gill.galway@srg.caa.co.uk or at the CAA at Aviation House, Gatwick Airport South, West Sussex RH6 0YR,
Metcheck
Metcheck have upgraded their website with a new aviation page. The page is at http://www.metcheck.com/V40/UK/HOBBIES/aviation.asp
GENERAL INTEREST, EVENTS AND SHOWS
Farnborough Developments
The world-famous historic buildings of the Royal Aircraft Establishment contain a cluster of Grade 1 and Grade 2 listed buildings, including several historic wind tunnels. With support from a variety of organisations, the site is now being refurbished by its owners, Slough Estates. The restoration work will include the re-erection of the 1911 Airship Hangar, which saw the development of Britain's first airship, and the redevelopment of two wind tunnel buildings. It is hoped to have at least some of the work completed in time to celebrate the centenary of the first recognised British powered aeroplane flight, by Sam Cody, in 1908.
Battle of Britain Monument
The Prince of Wales unveiled the new Battle of Britain Monument on the Thames Embankment in September, following a service in Westminster Abbey attended by many hundreds of people from the world of aviation. An exhibition of the maquettes from the sculpture is now open at the Cass Sculpture Foundation in Percy Street, London, until 12 November. These preparatory drawings and other materials are available for viewing and purchase.
Sport and Leisure Aviation Show
This annual show, organised by the British Hang-Gliding and Paragliding Association and the British Microlight Aircraft Association, has moved to the National Exhibition Centre, near Birmingham, and will take place on the weekend of 26/27 Nov. The Show aims to display what affordable flying is all about and is for all existing sports and leisure flyers, for those who would like to learn to fly but are not sure if they can afford it, and for anyone interested in the lighter end of aviation. Stands will feature flying models, foot-launched para-gliders and hang-gliders, paramotors and powered hang-gliders, microlights, gliders and light aircraft, as well as the gadgets and gear that go with them. For further information, contact the BHPA 0116 261 1322 or check the event website: http://www.sportaviation.org.uk.
---