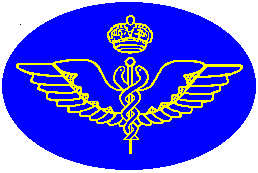 Royal Aero Club Newsletter
Summer 2006
---
Newsletter edited by Diana King. Please send items for future Newsletters to Radford Barn, Radford Semele, Leamington Spa, Warwickshire, CV31 1UT or to secretary@royalaeroclub.org.
LETTER FROM THE CHAIRMAN
Dear Members
As I write this letter we are well into our sporting calendar and already British aviators have brought home more than their fair share of medals. Congratulations to the British Gliding Team and the British Microlight Team in particular for their achievements so far this year. Congratulations also to Richard Meredith-Hardy who has been awarded the FAI Gold Medal for his contribution to microlight aviation.

But it is not all fun and flying in sports and recreational aviation today. The European Aviation Safety Agency is changing the shape of our sports and many RAeC members are giving up their flying time to work to protect our interests. At the risk of ignoring many volunteers I would like to single out two RAeC Council Members who have made a real contribution in the last year.

David Roberts, Vice Chairman of the RAeC and until recently Chairman of the BGA is also Treasurer of Europe Air Sports. David's work in Europe and on such bodies as the EASA MDM032 working group on recreational aviation has done much for the British sports pilot, too much to list here. I believe that we owe David our thanks for his unpaid efforts on our behalf over recent years.

Richard Meredith-Hardy on Mount Everest
Roger Hopkinson, Chairman of the PFA and a new member of the RAeC Council, is also Facilitator of the General Aviation Alliance on which most RAeC member associations are represented. In its short existence the GA Alliance has proved itself an effective lobbying organisation, filling a gap that, to be frank, was left by the RAeC. Now the GA Alliance and the RAeC are working closely together, thanks to Roger's efforts, which can only be good news for RAeC members.
All this sporting and regulatory effort shows that British sports and recreational aviation is alive and well. The Royal Aero Club and its members are working to make sure it stays that way.
Keith Negal
Chairman
---
BRITISH PILOTS AT INTERNATIONAL EVENTS
Congratulations to:
The British Gliding Team, who have taken 4 medals at the World Gliding Championships, which took place in Sweden in June. Winners were:
Leigh Wells – Gold medal, Standard Class

Phil Jones - Gold medal, 18 metre Class

Pete Harvey – Bronze medal, Open Class

Jez Hood – Bronze medal, Standard Class

The team also came away with the Team Cup.


British Gliding Team Medallists
The British Microlighting Team also came home with four medals from the European Microlighting Championships in Germany and a Silver in the Team Cup. Winners were:
Richard Rawes - Gold medal, single seat flexwing

Paul Dewhurst and Oliver Neece – Gold medal in the fixed wing class

Rob Grimwood and Chris Saysell – Silver medal in the flexwing 2-seat class

Rob and Rees Keene – Bronze medal flexwing 2-seat class


British Microlight Team Medallists
---
NEW BRITISH WORLD RECORDS
Congratulations to:
Manuel Queiroz, who in the course of a round-the world flight, has set 7 new speed records in his Van RV6. He also qualifies for a Circumnavigator Diploma.
---
SAFETY
CAA General Aviation Safety Award
Neil France was awarded the Tiger Moth trophy for winning the CAA General Aviation Safety Award for 2005. Neil, who was flying as a passenger on a local flight in an aircraft which was not familiar to him, managed to take control and land the aircraft safely after the pilot became incapacitated.
Anyone can nominate or be nominated for such an award, so if you know of anyone involved in general aviation who you think has shown exceptional skill or airmanship in getting themselves, or better still someone else, out of trouble, the 2006 Board would very much like to hear about it. Nominations may be made on a form on the CAA's web site, by writing to Safety Promotion at the General Aviation Department, Aviation House 1W, Gatwick Airport South, RH6 0YR, or by email to david.cockburn@srg.caa.co.uk.
CAA Safety Evenings
The programme of CAA Safety Evenings can be found on the CAA website at http://www.caa.co.uk/default.aspx?categoryid=224&pagetype=69
---
SCHOLARSHIPS
Air League Scholarships
The competition for Air League Scholarships opens on 1 September and closes on 31 January 2007. There are opportunities to win scholarships or bursaries for training towards qualifications in gliding, flying, or ballooning. Engineering scholarships also offer the opportunity for a placement with an aerospace company or flying school. See the Air League website at http://www.airleague.co.uk for further details.
Winston Churchill Fellowships
The Winston Churchill Memorial Trust seeks applications for their travelling fellowships. Sport is one of the eligible categories for 2007, and applications are sought from those wishing to carry out projects overseas relating to any sports related topic, including the provision of facilities, training, coaching or club organisation. Fellowships are available to UK nationals of all ages. More details from http://www.wcmt.org.uk
---
NATIONAL AND EUROPEAN REGULATORY ISSUES
Transponders
The CAA has published a Consultation Paper under the snappy title "Amendment of The Air Navigation Order 2005 For The Purpose Of Improving The Technical Interoperability Of All Aircraft In UK Airspace". Put simply, the proposal is to require all aircraft operating in UK airspace – whether controlled airspace or not – to carry transponders. The cost and technical implications of this proposal are serious, particularly for operators of lighter, cheaper and unpowered aircraft.
http://www.caa.co.uk/default.aspx?categoryid=810 gives the details and the link to the documents. The RAeC is responding by liaison with the General Aviation Alliance and all members are strongly encouraged to make their own personal responses to the proposals. The consultation closes on 29 August.
Open forums have been held in London and Hampshire and there is a further meeting at Barton on 23 August. Full details are on the CAA website.
LAASG
The Light Aviation Airports Study Group (LAASG) was formed in 2005 to provide an opportunity for creative thinking and discussion, potentially leading to the development of new proposals relating to the regulation of "light aviation" aerodromes and operations. In particular, the group was invited to review the use of licensed aerodromes as required by Article 126 of the Air Navigation Order 2005. The formation of the Group arose directly from the CAA-Industry Joint Review Team, recognising views expressed by the GA sector over a number of years.
In its report published earlier this year, the Group recommended a review and possible revision of Article 126, taking into consideration International Standards, current and developing European Requirements and the Group's findings in relation to public transport and flying training. They also recommended that the CAA develop proposals to accept alternative arrangements to the present requirement for flying training to be conducted at a licensed aerodrome. They further suggested that the licensing criteria for Rescue & Fire Fighting Services should be reviewed.
The CAA is now consulting on these recommendations. The LAASG Report can be accessed through the CAA website at www.caa.co.uk/laasg and the consultation closes on 6 October.
CAA's Strategic and Regulatory Reviews
The reports from the CAA's Strategic and Regulatory Reviews into General Aviation have now been published and can be accessed on the
CAA website at http://www.caa.co.uk/default.aspx?categoryid=1
Airport Security
Before the recent security alerts, the EU Parliament was already reacting to earlier isolated incidents, involving light aircraft flying in areas or acting in ways which caused alarm. The Parliament is proposing to introduce new regulations relating to security at airports. The Regulations would require strict security at all airports (defined as any area of land or water specially adapted for the landing, taking-off and manoeuvres of aircraft), airfields including unlicensed fields, farm strips and the like (most of which have little or no security).
In addition all pilots and trainees for pilot licences for motorised aircraft would be subject to uniform background checks, which would have to be repeated at regular intervals.
Liaising with Royal Aero Club members, the General Aviation Alliance is preparing to lobby the Department for Transport, MEPs and MPs.
MDM.032
MDM.032 is a group of industry experts that are working with EASA to review the regulation of non-complex, non-commercial aircraft. This has significant helpful implications for many of our members. David Roberts, RAeC Vice Chairman, and Graham Newby, Chief Executive of the PFA, are members of the group, which also includes other experts from the field of recreational and sporting aviation.
A priority of this group has been to design a process through which certification and continuing airworthiness can be regulated and managed more effectively than the existing Part 21 and proposed Part M. Working to a very tight deadline (completion is required by mid August), the group has come up with a number of options for sub 5700 kg non complex aircraft. The group has identified a number of options, from 'do nothing' through to significantly increasing industry responsibility, with authority to develop and manage its own certification and continuing airworthiness to industry standards. David and Graham appear to be confident that we will see a change in approach by EASA that could make an impact in the political process and subsequent regulatory developments.
Aerodromes
EASA issued a Notice of Proposed Amendment NPA 06/2006, regarding regulation of airfields under the title "Basic principles and Essential Requirements for the Safety and Interoperability Regulation of Aerodromes". The general nature of the document is intended to increase and formalise the level of regulation (and by implication safety) on all airfields. Concern over the proposals has been heightened by the realisation that the definition of 'aerodrome' under the ANO is 'any area of land or water designed, equipped, set apart or commonly used for affording facilities for the landing and departure of aircraft' and could thus include a hillside used by paragliders or a small field used by model flyers. The deadline for submitting comments has been extended to 16 October. The General Aviation Awareness Council, which is the organisation with the greatest level of expertise on planning and other matters, is leading on a UK response, in addition to other associations preparing their own specific comments.
Permits to Fly
NPA 09/2006 on Permits to Fly has been published. The document can be reviewed on the EASA website and the consultation closes on 5 October. See http://www.easa.eu.int/home/rm_npa_en.html
---
GENERAL INFORMATION
Schneider Trophy Banquet
The Schneider Trophy Banquet, 'A Celebration of World Aviation Record Breakers' will take place on Wednesday 13 September at the Royal Air Force Museum in Hendon. Marking the 75th Anniversary of the winning outright of the Schneider Trophy by Great Britain, the evening will pay tribute to aviation record breakers from around the world. Surplus funds will go towards a Schneider Trophy Flying Scholarship through the Air League and to the RAF Museum including support for the Royal Aero Club's collection. Applications for tickets must be made by 30 August; details from Anji Patel on 020 8358 4814 or schneider@rafmuseum.org.
Airfields of Britain Conservation Trust
This new charity was launched at the RAF Museum in Hendon in June. It was established "to acknowledge the enormous and unique contribution airfields have made in numerous spheres since 1909". The intention is to erect a memorial at each known disused airfield site in Britain in order to provide a permanent reminder for future generations. Historical information will be available and education advice and support will also be offered to enthusiastic young people who are considering future careers in aviation. More information can be found at www.abct.org.uk.
Members' Offer
Thames & Hudson in London are offering RAeC members a special price on two aviation books. One is 'The Aviation Book: The World's Aircraft A-Z', an illustration of the history of flight with meticulous drawings, technical specifications and flight data of the world's civil and military aircraft, available at £22.50. The other is 'Concorde: The Last Summer', a photographic record of the iconic plane's last summer, at £14.95.
Contact Thames & Hudson Ltd on 08450 585878 quoting 'Royal Aero Club offer'. The offer ends 30th November 2006 and is subject to availability. Please allow up to 14 days for delivery.
---
Newsletter edited by Diana King. Please send items for future Newsletters to Royal Aero Club, Radford Barn, Radford Semele, Leamington Spa, Warwickshire, CV31 1UT or to secretary@royalaeroclub.org.
For further information on any items contained in this Newsletter, please contact Diana King at the RAeC Office address or on (Tel) 01926 332713 or (Fax) 01926 335206.